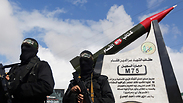 Izz a-Din al-Qassam Brigades guarding new monument.
Photo: AP
GAZA - Hamas' armed wing threatened Monday to shoot rockets that would reach northern Israel during its next confrontation with the IDF.

During the 2012 Operation Pillar of Defense, Gaza terror organizations for the first time fired rockets that reached Tel Aviv and Jerusalem.

Hamas held a ceremony in Gaza City on Monday to inaugurate a new monument depicting a M75 rocket, a few hours before an event in Eilat in which Israel plans to showcase a seized weapons shipment from Iran to the Gaza Strip that included advanced rockets capable of reaching distances of up to 200 km.

Both Iran and Hamas denied any involved in the attempted smuggling.

Related stories:

"Hamas has managed to take the battle to the heart of the (Israeli) entity after developing its rockets system, and has succeeded where many Arab armies have failed," a commander from the Izz a-Din al-Qassam Brigades said, surrounded by masked soldiers.

"The bloodshed will not stop until the owners (of Palestine) recover their rights and until the holy places are returned to the Islamic nation," he added.

The M75 rocket monument is dedicated to Ibrahim al-Maqadma, a founder of the Izz a-Din al-Qassam Brigades, who was killed by the IDF in 2003.

A fresco of Mandate-era Palestine is painted on the base of the monument, with the dates of the November 2012 rockets fired at Tel Aviv and Jerusalem and a question mark on areas of Israel further north than that.

"The question mark on the north of the map shows that the cities in the far north will be among the targets of the Qassam Brigades and the resistance in any future confrontation", a Hamas leader told AFP anonymously.