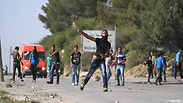 Palestinian stone throwers
Photo: Gil Yohanan
IDF forces opened fire at several Palestinians who were throwing stones near the West Bank settlement of Beit El settlement Monday. One of the Palestinians was shot in the head and killed.

The IDF is examining the circumstances surrounding the incident, but said Palestinians had hurled rocks at an Israeli vehicle and bus, and soldiers at the scene had responded with gunfire.

"During an ambush attempting to capture stone throwers not far from Beit El, the IDF opened fire on a Palestinian who was throwing stones. The Palestinian was injured and later died of his wounds. The Military Police Corps has opened an investigation concerning the incident," the military said.

The man's relatives said the 20-year-old had been shot while tending his family's goats near his home.

"There were no signs of clashes in the area and it was clear by the man's clothes he was there to take care of the goats," said Laila Ghannam, Palestinian governor of nearby Ramallah.
Jordan border incident
Earlier Monday Israeli guards shot a Jordanian man to death after he tried to attack an IDF soldier and snatch his rifle at the Allenby border crossing between Israel and Jordan. He was identified as a Jordanian judge by the name of Raed Zueter.
The shooting took place at the Allenby crossing as the man was going from Jordan into the West Bank.
The man was initially identified as a Palestinian but a Jordanian judicial official, speaking on condition of anonymity because he was not authorized to talk to the media, later confirmed that he was a judge working in Amman since 2009.
The judge's father, Alaa Zueter, told The Associated Press that he had gone to court to see his son today but didn't find him at work and only later heard on the media what had happened.
"I didn't know my son went to the West Bank today," said the man, crying over the telephone. He said he didn't know what his son's business was in the Palestinian territory.
In the West Bank, the Palestinian Authority condemned the killing and called for an independent investigation, saying: "This killing is one of a series of human rights violations in Palestine."