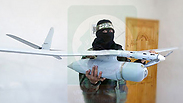 Gaza-ruler Hamas released photos of the Israeli Skylark drone that crashed Tuesday morning in Gaza due to a technical malfunction.

It was reported by the Popular Resistance Committees that its men were the first to get their hands on the drone after its crash; however Hamas security official quickly reached them and forcefully took the UAV away.

Related stories:

The crash occurred Tuesday morning during a routine operational activity of the IDF's Gaza division, about a kilometer west of the southern Gaza border fence. Preliminary investigation reveals that a technical failure led to the crash, but it is also examined whether a human error led to the event.

The crashed drone is the smallest aircraft in the Israeli army service, and it is designed to accompany operational activities and has the ability to prevent foreign actors who have taken over it to abuse its capabilities.

About three hours after the drone's crash, the Israeli Air Force struck a Palestinian terror cell that was firing mortar shells at IDF soldiers from the southern Gaza Strip.

The Islamic Jihad said three of its militants were killed in the strike after firing at an IDF force east of Rafah.

IDF infantry and engineering corps were doing routine military work in the area when they were hit with Palestinian fire, but none of the soldiers was hurt.

The two incidents are likely unrelated.