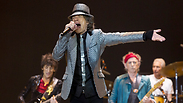 The Rolling Stones in concert
Photo: AP
The chances of a Rolling Stones concert in Israel this summer are growing: Yedioth Ahronoth has learned that Yarkon Park in Tel Aviv has been reserved on June 4 as the venue for the legendary British rock group's performance, and that the date has been approved by the band's representatives.

The previous date requested by the band members, in late May, created a problem for the Tel Aviv and Ramat Gan municipalities, as Justin Timberlake's concert had already been set for May 28 and, in favor of the area's residents, major events cannot be held at the park on dates so close to one another.

Several producers, including Shuki Weiss, Marcel Avraham and Gadi Oron, have been fighting for the privilege to bring the Stones to Israel. The lucky winner will get to produce the prestigious show for an estimated $5 million.