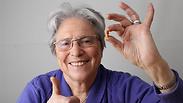 Professor Marta Weinstock-Rosin
Photo: Nati Shohat, Flash 90 - courtesy of Hebrew University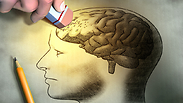 'In most scientific discoveries there is an element of luck'
Photo: Shutterstock
Professor Marta Weinstock-Rosin, the former head of Hebrew University's School of Pharmacology, was trying to learn why morphine depresses respiration.

"Morphine is a wonderful drug, but it has two problems," she told The Media Line. "It's addictive, and it depresses breathing so you can't give people much."

Significant Progress

Study conducted by Dr. Inna Slutsky of Tel Aviv University suggests simple everyday activities may have power to stave off mind-deteriorating disease.

If she could figure out how it depresses breathing, she thought, perhaps she could engineer a new drug that would enable doctors to give patients more morphine and further ease their pain without the dangerous side effects.

"Together with some chemists I came up with a drug which I thought would work," she said with a laugh. "But it turned out that it didn't work very well in that part of the brain where I wanted it to work, but it did work in the front part of the brain – the cortex and the hippocampus – which are involved with memory."

That is how the drug called Exelon, which Weinstock-Rosin sold to Swiss company Novartis, came to treat mild to moderate dementia caused by Alzheimer's or Parkinson's disease.

"In most scientific discoveries there is an element of luck," she said. "In this case, I was in the library, and saw a copy of the journal Science. I picked it up and there was an article about Alzheimer's and I thought maybe this could work."

She also encouraged Novartis to make a patch with the drug which would allow for the medicine to be distributed via time release.
A born optimist
Dr. Weinstock-Rosin has just been awarded the Israel Prize for Medicine. Born in Vienna, her family left Austria just before the war and she grew up and trained in England. In 1969, she moved to Israel with her husband and three children. A fourth child was born in Israel.

Exelon works on patients who have already been diagnosed with Alzheimer's. Now Dr. Weinstock-Rosin is working, along with Professor Moussa Youdim of the Technion-Israel Institute of Technology on a drug called Ladostigil. She hopes this drug will actually prevent brain degeneration and memory impairment. It has already worked in rats, she said, and is now undergoing Phase 2 clinical trial in Israel and Europe.

"However," she cautioned, "less than 1% of chemical compound that work in rats ever make it to the clinical stage. But I'm a born optimist and I hope it will happen."

Adding to the difficulty, she said, is that she is basically asking healthy people who are at risk, to take the drug and undergo frequent hospital visits and tests such as MRIs to prevent the disease.

In other Israeli research on Alzheimer's, a recent study discovered a biological mechanism that could explain how physical and mental activity can delay the development and onset of the disease. The degeneration memory loss comes from a decrease in the level of proteins that communicate between the nerve cell and the brain.

Dr. Boaz Barak from Tel Aviv University found that physical activity and intellectual stimulation boosts the level of these proteins.

"Numerous studies on Alzheimer's patients found a correlation between patient's lifestyles and the speed at which the disease develops," Dr. Barak said. "As a rule, the more intellectually stimulating and physically challenging a patient's lifestyle, the slower the disease develops."

Article written by Linda Gradstein

Reprinted with permission from The Media Line