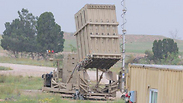 Iron Dome battery near Beersheba
Photo: Herzel Yosef
Rockets continued raining down on southern Israel on Thursday, leading the IDF to deploy two Iron Dome batteries near Beersheba and near Ashdod.

The IDF said it "does not provide details on air defense preparedness. The air defense system is deployed based on situation assessments and operational needs."




Earlier Thursday, the IDF decided to call in a limited amount of air defense reserve soldiers to operate the Iron Dome missile-defense systems.

Chief of Staff Benny Gantz returned to Israel Thursday evening after a visit to the US, and will hold consultations on the escalation in the South.