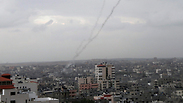 Rockets fired from Gaza
Photo: AP
A truce declared by Gaza militants appeared to be holding on Friday with the Israeli military reporting no fresh rocket fire during the night after two days of tit-for-tat violence.

"It's all quiet, there has been no fire overnight," an army spokesman said at 8 am. However, at roughly noon Friday a rocket from Gaza exploded in an open area in the Sha'ar Hanegev Regional Council near Sderot in southern Israel. No damage or injuries were reported, and no siren was reportedly sounded in the area.

"Moments ago an additional rocket hit," an army statement said at 11:47 am. A spokeswoman told AFP it was the first to strike Israel in more than 12 hours.

It was the sixth to hit since Islamic Jihad declared on Thursday that an Egyptian-brokered truce on the Israel-Gaza border had been restored after Israeli warplanes pounded the territory in response to a barrage of rocket fire by its militants.

The truce, which was to have taken effect at 1200 GMT on Thursday, was tested when the Israeli military reported further rocket fire from Gaza hours later and launched retaliatory air strikes for a second night.

"Israel Air Force aircraft targeted four terror sites in the southern Gaza Strip and three additional terror sites in the northern Gaza Strip," a military statement released around midnight (2200 GMT) said.

Witnesses and Palestinian security officials said the targets included facilities near Gaza City used by the military wing of Gaza's ruling Hamas movement.

Israeli aircraft also struck a base of the hardline Popular Resistance Committees in the southern town of Rafah.

The army said five rockets hit Israeli territory on Thursday evening. Another two were intercepted by Israel's Iron Dome air defence system.

Three rockets had struck during the morning, before the announcement of the renewed truce.

On Wednesday, at least 60 rockets hit Israel and Israeli warplanes pounded Gaza in response, in the worst violence around the territory since Operation Pillar of Defnese between Israel and Hamas in November 2012.

Neither side reported any casualties.
Coordinated barrage
The latest flare-up began on Tuesday when Islamic Jihad militants fired a mortar round at Israeli troops allegedly trying to enter southern Gaza, prompting a retaliatory air strike that killed three of them.
In revenge, Islamic Jihad's armed wing, the Al-Quds Brigades, launched a coordinated barrage of rockets at southern Israel on Wednesday that continued into the night, with the group putting the number at 130.
Israel responded by hitting 29 targets across Gaza that night, including Islamic Jihad and Hamas bases. Another seven air strikes followed on Thursday morning with seven more around midnight.
Analysts said Israel was not interested in a major confrontation, but some predicted the next flare-up would only be a matter of time.
"A barrage of dozens of rockets and mortar shells is an irregular occurrence," Yediot Aharonot's defense analyst Alex Fishman wrote.
"What started as a campaign of revenge and deterrence evolved into a dangerous attempt by the leaders of Islamic Jihad to set a red line, meaning that every assassination of a terrorist operative will be met with fire from now on.
"This is a formula that could be put to the test very soon, perhaps even next week, and so nothing has really ended."