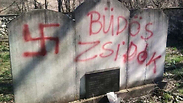 Desecrated Jewish gravestones in Hungary
Photo: Feher Gabor
A Jewish cemetery in the city of Tatabánya in Hungary was vandalized on Thursday, as tombstones were spray-painted with swastikas and writings reading "rotten Jews" and "there was never a Holocaust, but there will be one."

Members of the local Jewish community arrived at the cemetery in Tatabánya, located some 55 kilometers west of Budapest, to hold a memorial service and were horrified at the sight of the desecrated graves, and immediately notified the authorities.






This event took place about a month and half prior to the annual March of the Living which will be held in Hungary. Zohar Meir, one of the founders of the symbolic march, said: "They painted swastikas and black crosses which symbolize the Nazi movement under the rule of Adolf Hitler."

Increasing anti-Semitism

Hillel Cohen was struck by two unknown assailants while on his way to visit a tourist hospitalized in a local medical center.

There are more than 1,300 Jewish cemeteries across Hungary. Meir, who resided in Hungary a decade ago while working at the Israeli embassy, said that the latest event is an escalation in anti-Semitism.

"There is a very strong wave of anti-Semitism in Hungary. From past experience, these waves become stronger when the economic situation turns shaky and difficult, and the anger is directed at the Jews," Meir explained.

In his remarks, Meir mentioned the right-wing party Jobbik in Hungary, which caused numerous issues in the past and made provocations against the Hungarian Jewish community, such as holding a radical right-wing conference in a synagogue in the city of Esztergom. "It is one of the ruling parties, and it is by all means neo-Nazi. The righting ruling forces are turning a blind eye to every attempt to harm Jews. It is an escalation that requires action," he said.

Meanwhile, anti-Semitism is increasing in other countries in Europe as well. Rabbi Hillel Cohen, a prominent Ukrainian Jew, was attacked Thursday night in Kiev by anti-Semites who struck him while he was on his way to visit a Jewish tourist hospitalized in the city.

Cohen told Ynet that the attack took place in a dark alley near the hospital and involved two assailants. He said he suddenly received a hard strike to his shoulder from a cane. He was evacuated in light to moderate condition to a nearby hospital.

Earlier this week, anti-Semitic graffiti were discovered at a Jewish school in the Swedish capital Stockholm. The entrance walls to the school were sprayed with swastikas and writings reading "filthy Jews" and "pigs".