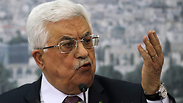 PA Presidnt Mahmoud Abbas
Photo: EPA
Four left-wing Palestinian factions have called on Palestinian Authority President Mahmouad Abbas to declare the failure of peace talks with Israel, Chinese news agency Xinhua reported on Saturday.

A joint communiqué from the Popular Front for the Liberation of Palestine, the Democratic Front to Liberate Palestine, the Peoples' Party and the Palestinian National Initiative Party urged Abbas to abandon the US-mediated negotiations and apply to the United Nations for state recognition instead.

"Accepting (US Secretary of State John) Kerry's plan to sign the framework peace deal is like committing suicide, and this plan has many dangerous consequences on the Palestinian cause and our people's legitimate rights," the factions wrote.

Related stories:

The Popular Front for the Liberation of Palestine is the second largest member of the PLO (after Fatah) and is defined as a terrorist organization by the US, Canada, the EU and Israel. The Democratic Front to Liberate Palestine is the third largest member of the PLO, and while it perpetrated terrorist attacks in the past, it has been dropped from the US terrorist list in 1999 due to lack of activity in the two years prior to the decision.

The four factions announced their intention to hold rallies and protests calling for the protection of the "stable and unchangeable rights of the Palestinians."

Abbas was scheduled to meet with US President Barack Obama in Washington on Monday to discuss a framework to guide final status negotiations, ahead of the impending deadline for the current round of talks on April 29.

Obama and Abbas "will also discuss our continuing effort to work cooperatively to strengthen the institutions that can support the establishment of a Palestinian state," White House Press Secretary Jay Carney said on Friday.

Obama will also "speak of the need to establish a framework for negotiations going forward and the need - as that takes place - for additional tough decisions to be taken so that we can see a resolution to a conflict that has been going on for a long, long time, and that results in two states, a sovereign Palestinian state and a secure, democratic, Jewish state of Israel," Carney said.

The American president met with Prime Minister Benjamin Netanyahu on March 3 at the White House and promised the Israeli premier that he would press Abbas to accept Kerry's proposed framework agreement.