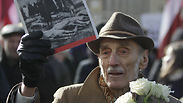 Lavtian protester
Photo: EPA
Hundreds of Latvians have celebrated Legionnaires Day – which their government abolished in 2000 – by paying tribute to World War II veterans who fought alongside Nazi troops.

After a church service in the Lutheran Cathedral in Riga, the capital, on Sunday, the marchers went to the Freedom Monument, where they laid roses in the red and white colors of the Latvian flag.

Police closely guarded the peaceful march.
Photos from Latvia:
A small group from Latvia's Russian-speaking minority protested from a nearby park behind police barricades, shouting: "Shame!" and "Fascism will never end!"
Related stories:
During World War II, Latvian soldiers fought alongside Nazi troops in a 140,000-strong unit of Germany's Waffen SS against the Red Army, which invaded in 1944.
Many Latvians honor war veterans on Legionnaires Day, but Russians see it as glorifying fascism.
In 2012, Latvian President Andris Berzins spoke on the LNT television channel, saying veterans of the Latvian Legion, deserved respect not condemnation.
"They were conscripted into the fascist German Legion. They went with the ideal of defending Latvia. Latvians in the Legion were not war criminals," Berzins insisted.
He also said foreign criticism of the annual rally was unfair.
AFP contributed to this report.