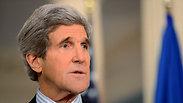 An Israeli minister on Sunday said Washington's top diplomat was "wrong" for pressuring Israel in peace talks, a day before Palestinian leader Mahmoud Abbas was set to visit the White House.

His remarks came two days after US Secretary of State John Kerry criticized Israeli Prime Minister Benjamin Netanyahu's repeated demand that the Palestinians recognize Israel as a Jewish state.

"John Kerry is wrong because he is putting pressure on the wrong side," said Environment Minister Gilad Erdan, who is considered close to Netanyahu.

"Kerry should be asking Abu Mazen (Abbas) why he is stubbornly refusing to recognize Israel as the Jewish state," he told public radio.

The demand, which was only placed on the table several months ago by Netanyahu, has been consistently rejected by the Palestinians and is now threatening to derail the peace talks ahead of an April 29 deadline.

Related stories:

Kerry waded into the debate on Friday, saying he believed it was a "mistake" to raise the issue over and over again – in what was taken as open criticism of Netanyahu.

"I think it's a mistake for some people to be raising it again and again as the critical decider of their attitude toward the possibility of a state and peace," Kerry told a congressional hearing.

He said such recognition was clear in UN resolutions and was also confirmed by the late Palestinian leader Yasser Arafat in 1988 and in 2004.

The Palestinians, who recognized Israel as a state in the early 1990s, have said that accepting its religious character would ignore its Arab minority and amount to giving up on the "right of return" of Palestinian refugees.

Israel has not formally responded to Kerry's remarks.
Partner for peace
Kerry is facing an uphill battle to get the two sides, which have reportedly failed to agree on anything, to clinch a framework proposal which would extend the talks beyond the April deadline until the end of the year.

On Saturday, another senior member of Netanyahu's cabinet poured cold water on Kerry's efforts by saying Abbas was not a partner for peace.

"He is not a partner for a final agreement that would include the recognition of Israel as the national state of the Jewish people and that would end the conflict and all claims," Defense Minister Moshe Ya'alon told private Channel 2 television.

"I'm sorry to come to this conclusion, but this (peace agreement) will not happen in my time," said Ya'alon, one of several hardliners in Netanyahu's government.

Abbas will meet US President Barack Obama on Monday, and is likely to raise the issue of Israel's pledge to release another 26 veteran Palestinian prisoners, which is due to take place on March 29.

But Israeli officials have said that without any movement in the peace talks, the release is unlikely to happen, especially as the group is said to include a number of Arab Israeli prisoners.

"I've already voiced my opposition," Ya'alon told Channel 2.

"We made a commitment about Palestinian prisoners from the pre-Oslo period. We did not make a commitment about Arab Israelis," he said, without saying whether the release would take place.

"Abu Mazen is obstinate. He isn't prepared to make concessions," he said. "I don't know what is going to emerge from this but we aren't prepared to be extorted."