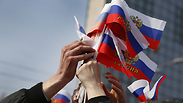 Locals celebrating referendum
Photo: AP
President Barack Obama told Russian President Vladimir Putin in a phone call on Sunday that the United States rejected the results of a referendum in Ukraine's Crimea region and warned that Washington was ready to impose sanctions on Moscow over the crisis.

"He (Obama) emphasized that Russia's actions were in violation of Ukraine's sovereignty and territorial integrity and that, in coordination with our European partners, we are prepared to impose additional costs on Russia for its actions," the White House said in a statement.

Obama told Putin the crisis could still be resolved diplomatically, but said the Russian military would need to first stop its "incursions" into Ukraine, the White House said.

Related stories:

Just two weeks after Russian troops seized their peninsula, Crimeans voted Sunday to leave Ukraine and join Russia, overwhelmingly approving a referendum that sought to unite the strategically important Black Sea region with the country it was part of for some 250 years.

The vote was widely condemned by Western leaders, who planned to move swiftly to punish Russia with economic sanctions.

As the votes were counted, a jubilant crowd gathered around a statue of Vladimir Lenin in the center of Simferopol to celebrate with song and dance. Many held Russian flags, and some unfurled a handwritten banner reading "We're Russian and proud of it." Fireworks exploded in the skies above.

"We want to go back home, and today we are going back home," said Viktoria Chernyshova, a 38-year-old businesswoman. "We needed to save ourselves from those unprincipled clowns who have taken power in Kiev."

Ukraine's new government in Kiev called the referendum a "circus" directed at gunpoint by Moscow, referring to the thousands of troops that now occupy the peninsula, which has traded hands repeatedly since ancient times.

The referendum offered voters the choice of seeking annexation by Russia or remaining in Ukraine with greater autonomy. After 50 percent of the ballots were counted, more than 95 percent of voters had approved splitting off and joining Russia, according to Mikhail Malishev, head of the referendum committee.





Final results were not expected until Monday.

Opponents of secession appeared to have stayed away Sunday, denouncing the vote as a cynical power play and land grab by Russia.

Putin insisted the referendum was conducted in "full accordance with international law and the UN charter."

The Crimean parliament planned to meet Monday to formally ask Moscow to be annexed, and Crimean lawmakers were to fly to Moscow later in the day for talks, Crimea's pro-Russia prime minister said on Twitter.

Russian lawmaker Vladimir Zhirinovsky said the annexation could take "from three days to three months," according to the Interfax news agency.

Some residents in Crimea said they feared the new Ukrainian government that took over when President Viktor Yanukovych fled to Russia last month would oppress them.

"It's like they're crazy Texans in western Ukraine. Imagine if the Texans suddenly took over power (in Washington) and told everyone they should speak Texan," said Ilya Khlebanov, a voter in Simferopol.

Ukraine's new prime minister insisted that neither Ukraine nor the West would recognize the vote.

"Under the stage direction of the Russian Federation, a circus performance is underway: the so-called referendum," Prime Minister Arseniy Yatsenyuk said Sunday. "Also taking part in the performance are 21,000 Russian troops, who with their guns are trying to prove the legality of the referendum."

As soon as the polls closed, the White House again denounced the vote.

"The international community will not recognize the results of a poll administered under threats of violence," it said in a statement. "Russia's actions are dangerous and destabilizing."