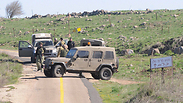 Three IDF soldiers hurt in blast on Israel-Syria border
Photo: Avihu Shapira
An explosive device detonated along Israel's border fence with Syria on Tuesday afternoon, the IDF said, in the area south of the Druze village of Majdal Shams. Four IDF soldiers were wounded in the blast, one is in serious condition, the others are in light to moderate condition.
The IDF has reportedly responded with artillery fire into Syrian-controlled territory, targeting Syrian military positions. According to the IDF, it fired Tamuz missiles and direct hits were confirmed.
Prime Minister Benjamin Netanyahu commented on the incident during a Likud meeting Tuesday and promised to respond.
"Recently, the border with Syria has become filled with jihadists and Hezbollah men which pose a new challenge for us to deal with. We managed to keep the peace along the Syrian border despite its on going civil war, but we will act firmly, if needed, to maintain Israel's security," Netanyahu said.
An initial military investigation showed that a bomb had detonated near an IDF patrol jeep traveling along the border. Last Friday an improvised explosive device was detonated in the same area, targeting an IDF force near the border with Lebanon as it was patrolling in the Shebaa Farms area.
The patrol, which included several reconnaissance vehicles, was hit by the IED, but no casualties were reported.
At the time, Ynet's senior national security correspondent Ron Ben-Yishai claimed that it was almost certain that Hezbollah was attempting to fulfill its obligation to avenge and retaliate the bombing of a strategic weapons convoy, which was on its way to reach it some four weeks ago.
Related stories:
According to foreign reports, several Hezbollah militants were killed in an alleged Israeli attack in Lebanon's Beqaa Valley at the end of February. A Lebanese security source confirmed that at the time that Israeli warplanes struck targets in the coastal country with the Syrian Observatory for Human Rights claiming the attack targeted a Hezbollah "missile base."
Earlier, the official Lebanese news agency reported that Israeli fighter jets have carried two attacks on Monday in the vicinity of the Syrian-Lebanese border.
The objective of the attack was the destruction of Hezbollah facilities near the border in Lebanon, according to Al Arabiya, whose journalist reported that loud explosions were heard across the Beqaa Valley.