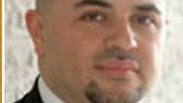 Palestinian Authority President Mahmoud Abbas' youngest son Tareq told the New York Times on Tuesday that he believes peace talks with Israel are futile and that the one-state solution is the only peaceful way to resolve the conflict.

Like many Palestinians, Tareq objects to extending the US-led peace talks, and believes his father should turn to international organizations instead, asking them to recognize the Palestinian state.

In addition to that, Tareq told the Times he believes his father should dissolve the Palestinian Authority and force Israel to take full responsibility for the West Bank.

Related stories:

"If you don't want to give me independence, at least give me civil rights ... That's an easier way, peaceful way. I don't want to throw anything, I don't want to hate anybody, I don't want to shoot anybody. I want to be under the law," he told the Times.

Tareq is very critical of Israel, and does not believe it will allow for a Palestinian state to exist.

The 48-year-old businessman, vice president of the Arab Palestinian Investment Company, stopped believing a two-state solution was possible two years ago when he got fed up of Israeli limitations on the West Bank.

"I believe (the Israelis) have 30 genius people, they meet every morning and there is only one topic on the agenda: how to make the life of the Palestinians miserable today," he said. "And they always surprise us, by the way. We always say, 'How can it get worse?' They do surprise us."

In conversations with his son, the PA president tries to convince Tareq that the two-state solution is the only possible solution to no avail. However, Tareq says, while he expresses his opinion, he is not offering advice.

"I don't say, 'Don't do it.' Who am I to tell him this? Even as a father I can't talk to him like this, you want me to say to the president like this?"