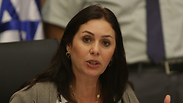 MK Miri Regev
Photo: Alex Kolomoisky
A few hours Deputy Defense Minister Danny Danon (Likud) threatened to resign if more Palestinian terrorists are released, 30 MKs from an array of parties signed a letter, initiated by MK Miri Regev (Likud), calling Netanyahu to release "nationalistic" Jewish prisoners as a countermeasure for the Arab terrorists release.
Likud MKs such as Tzachi Hanegbi and Coalition Chairman Yariv Levin were among the signatories on the call to release Jewish prisoners saying that "keeping Jewish prisoners in jail as opposed to releasing Arab prisoners is discrimination."
Other MKs who signed the letter were Shuli Moalem-Refaeli and Zvulun Kalfa from Bayit Yehudi, Israel Katz, Shimon Ohayon and Robert Ilatov from Likud-Yisrael Beiteinu and most of the MKs from haredi parties Shas and United Torah Judaism.
Related stories:
"The Israeli Government has released hundreds of terrorists in recent months and will release more in the coming year. Needless to say how painful it is for us to watch these terrible people, who hurt so many Israeli families, go free, but keeping the Jewish prisoners in jail constitutes a policy of discrimination towards them," said in the letter.
The letter doesn't specify the names of those Jewish prisoners, but the assumption is that they are Gur Hemel (who is serving a life sentence for the murder of a Palestinian), Shlomi Dvir Ofer Gamliel from the Bat Ayin underground terrorist group (who each serve 15 years for attempted terrorist attacks against Palestinians), David Emoyal (who is serving 18 years for attempted murder of 3 Arabs) and Tzviki Struk (Bayit Yehudi MK Orit Struck's son, who is serving 2.5 years for kidnapping and abusing a Palestinian teenager).
The MKs stressed that their signature on the letter doesn't mean they agree with the Jewish prisoners' actions and added, "We don't ignore the severity of their actions, however, while these Jews rot in prison, leaving behind broken families, they watch how terrorists with blood on their hands make their way back to their families and back to freedom."
The letter also indicated that "high percentage of the released Arab terrorists return to terror activity while "Jewish prisoners have never repeated their actions. We call you Prime Minister Netanyahu to right that wrong and release this handful of prisoners."