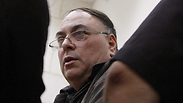 Avi Benayahu
Photo: Motti Kimchi
A former IDF spokesman and an aide to former IDF Chief of Staff Gabi Ashkenazi have been held on suspicion of obstruction of justice in a corruption investigation surrounding the race to nominate Ashkenazi's successor some three years ago.

Brigadier General Avi Benayahu, the former spokesman, and Colonel Erez Weiner, the former aide, were held overnight by police Wednesday, and were to be questioned again Thursday.

The investigation into the two had been under a gag order until Wednesday.

Related stories:
Ashkenazi: Barak hurt army during Harpaz affair
A police representative told Rishon Letzion Magistrate's Court on Wednesday that a search of Benayahu's home uncovered an IDF computer, containing classified material, and that the former spokesman is now also being investigated on new suspicions.

The police also said that Weiner had been found to be in possession of material that he should not have had, some of which was connected to the Harpaz affair investigation. According to the police, both men acted to stymie the investigation into the affair.

In requesting a five-day extension of their remands, police told the court that the two had conspired together to "gather and disseminate material to vilify army officials and politicians as part of a series of offenses, including the destruction of evidence and obstruction of justice."

The court approved a one-day remand extension for investigators.

The "Harpaz Affair" is named for Lt. Colonel (res.) Boaz Harpaz, who forged a letter intending to cast doubt over the candidacy of Major General Yoav Galant as the new head of the military. Galant's nomination was backed by then-defense minister Ehud Barak, while Ashkenazi preferred Major General Gadi Eizenkot.

Ashkenazi was later accused of a role in placing the letter penned by Harpaz, which ostensibly proved that Barak and his top aides were acting inappropriately in trying to promote Galant's candidacy.

Galant was initially named as Ashkenazi's successor, but stepped down over allegations of impropriety over property development at his home. Current chief of staff Benny Gantz was subsequently appointed, and Eizenkot became his deputy.