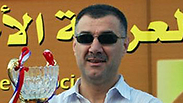 A cousin of Syrian President Bashar Assad was killed on Sunday in battles with Islamist rebels near the border with Turkey, activists and state media said.

The Syrian Observatory for Human Rights said Hilal Assad, local head of the National Defense Force militia, and seven of his fighters were killed in clashes with the Nusra Front and other Islamist brigades.

State television confirmed Assad's death, describing him as the head of the National Defense Force in the coastal province of Latakia, where the Assad family originates.

The National Defense Force is a militia set up to support the army in its three-year battle with rebels seeking to overthrow Bashar Assad.

The Observatory also reported that rebels fired two rockets into the port city of Latakia, which is the main hub for operations to ship out Syria's chemical weapons for destruction under a deal reached with the United States and Russia.

It said there were no immediate reports of casualties.