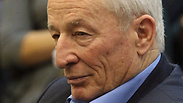 Attorney General Yehuda Weinstein
Photo: Motti Kimchi
Attorney General Yehuda Weinstein has launched an investigation into claims according to which a senior minister in the current government committed sexual offences some 15-years ago.
The report by Israel Radio's Adi Meiri claimed Weinstein had received the complaint last week and was currently in the midst of a preliminary investigation. The Justice Ministry confirmed the report.
Weinstein will have to decide if the case can still be prosecuted despite the fact more than a decade has passed, and in recent days he has held a number of meetings with Justice Ministry and State Prosecutor officials to decide how to proceed.
Related stories:
The last politician to be convicted of sexual offences was former MK Eliezer Cohen (Yisrael Beiteinu) who was convicted of performing an indecent act on an El Al flight attendant in 2011.
The incident occurred while the MK was on board a flight from New York to Tel Aviv. Cohen reportedly touched a flight attendant's breast while his wife was sleeping next to him.
However, the most prominent politician to face such allegations was former Israeli president Moshe Katzav who was sentenced to seven years in prison and two years of probation for rape, indecent acts, sexual harassment and obstruction of justice by a Tel Aviv District Court in 2011.
Last year a letter claiming then-education minister Gideon Sa'ar behaved inappropriately towards a female employee in his office surfaced last year, but failed to yield either a conviction or even an indictment.
The letter, alleging Sa'ar made inappropriate sexual advances toward a female employee, was obtained by a number of Likud Central Committee members and was addressed to the prime minister. However, following an initial examination, the Justice Ministry found no grounds for further investigation.
Attila Somfalvi contributed to this report