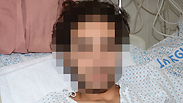 One of the Syrian patients
Photo: Mohamed Shinawi
"I've always thought of Israel as an enemy state that is not willing to help us. My case changed my thinking entirely. Israel is a good country that saves our lives, while the Syrian regime murders its citizens," said one of the Syrian patients currently treated at the Ziv Medical Center in Safed.

Of the 16 Syrian patients in the Israeli hospital, three are in serious condition. Among them are children and rebels who fought against Syrian President Bashar Assad's army. Those who can speak have one message for Prime Minister Benjamin Netanyahu: "Keep attacking in Syria in order to save the Syrian people from the Assad regime."

A 25-year-old rebel from Homs, who is being treated at the hospital's surgery ward, told how he was brought from the battles to Safed: "I was wounded in the leg by a shell when I was by my home, and Israeli forces evacuated me from the border to the hospital. Syrian army soldiers are the ones who hit me."

The young, wounded Syrian expressed support for Israeli strikes against his country. "I heard several days ago that Israel struck a military base in Syria. This move should have been executed a long time ago to help us bring down the terrorist regime in Syria. I wasn't sad because of the strike, but rather quite happy."

Related stories:

The 25-year-old rebel chose to denounce the actions of Hezbollah and its backers in Iran: "I also heard of Israeli soldiers who were injured in the Golan Heights, apparently by Hezbollah militants. I oppose the organization, Iran and Russia. Most of the Syrian citizens do not want them around and demand for them to not intervene in the war."

He also explained why he chose to fight against the Assad regime: "I joined the rebels after I saw the cruel treatment of the Syrian army. This treatment made me participate in the war against Assad and Hezbollah, who need to be called 'Satan's organization'. I would really like to return to Syria to keep fighting."

The Syrian rebel concluded his remarks by saying "I want to thank the prime minister of Israel for the amazing treatment we are receiving."
'Remove Hezbollah'
Another Syrian patient, from Daraa, also fought alongside rebel forces in Syria: "I was injured by a shell fired from a military chopper. The situation we are in is very severe; I will keep being united with the rebels until the truth prevails."

He expressed a hope for a better future for Syria: "We want to live in a safe environment, with no killing or destruction, but unfortunately the Syrian regime does not end the bloodshed. All this encourages us to sacrifice our lives for Syrian and its good people."

According to him, the most important task is to get Hezbollah out of Syria: "We call to stop the war, but as long as Assad is president then the war will continue. We call on the Israeli government to repeatedly attack every army base in Syria in order to help us remove Hezbollah militants from the country, who love to murder Syrians and destroy the country."

A Syrian woman, whose 12-year-old son is admitted at the Israeli hospital in serious to critical condition, prays for his recovery: "I want to see my son alive and hug him. He was injured by an object he found that contained a grenade. A friend that was with him was killed instantly and my boy was seriously injured."

Doctor Shukri Kassis, director of the Ziv Medical Center plastic surgery unit, elaborated on the condition of the patients: "We have 16 Syrian patients, three of which are in serious condition. Five of the patients are supposed to be released from the hospital. The unit treats a 12-year-old in very serious condition, with amputations in both legs and both arms. We make all the possible efforts to save his life. All Syrian patients are pleased and surprised by the treatment they are provided with."