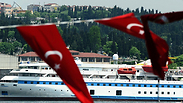 The Mavi Marmara
Photo: AP
Jerusalem and Ankara would likely sign a compensation deal following the local elections in Turkey after nearly four years of tense ties, Turkish Deputy Prime Minister Bülent Arınç told Hürriyet Daily News on Tuesday.

Relations between the two countries strained in May 2010 when nine Turkish citizens were killed in an IDF raid of the Mavi Marmara, a Turkish vessel trying to break the blockade on Gaza.




Reconciliation talks between Jerusalem and Ankara started after Prime Minister Benjamin Netanyahu called to apologize to Turkish Prime Minister Recep Tayyip Erdoğan at the request of US President Barack Obama in March 2013.


A final reconciliation text on the sum of compensation paid by Israel to the families of those killed on the Marmara was delivered to Turkey last month, Arınç told Hürriyet.

The document, that would restore diplomatic ties between the two countries to normal, is expected to be turned into an official agreement abnd approved by the governments of both countries after the March 30 Turkish local elections, according to Arınç.

Following the approval of the agreement by both governments and its signing, the process to normalize ties could begin immediately, and the two countries could assign ambassadors.