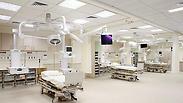 New ER expected to help relieve density in Israel's emergency rooms
Photo: Binyamin Adam
A fortified emergency room, the biggest in Israel, was inaugurated this week at the Rabin Medical Center in Petah Tikva in the presence of Health Minister Yael German. Some NIS 90 million (about $26 million) were invested in its construction.

The new ER, which will become operational in about two months, can treat 200,000 patients a year. It measures 5,000 square meters (58,800 square feet) in size and is expected to help relieve the density recorded in Israel's emergency rooms throughout the year, and especially during the winter season.
Separated rooms instead of curtains
While in most ERs today patients lie in beds separated with a curtain, in the new building each patient will get his own room.
Home and Away
Two-year-old Lian from Gaza, who was diagnosed with rare genetic disorder, admitted to Haifa hospital at age of seven months because of terminal renal failure.
The medical consultants, psychologists and social workers will also get their own rooms in order to be able to hold private conversations with the patients' families.
Another improvement is the establishment of a special wing for medical imaging processes within the ER, so that patients in need of an X-ray, a CT scan or an ultrasound will be able to receive the treatment on the premises instead of being sent to different places in the hospital.
Personal attention
"These days, when emergency rooms are filled to the brim and people are kept in a bed behind a screen day and night, I am proud to inaugurate the first ER of its kind in Israel," said Dr. Eran Halpern, CEO of the Rabin Medical Center, which includes the Beilinson and Hasharon hospitals.

"The new ER allows each patient to receive personal attention, quietly, calmly and privately, while maintaining and advancing quality, safety and infection control in the best way possible," added Dr. Boaz Tadmor, deputy director of the Rabin Medical Center.

The hospital's visitors will soon have to get used to further renovations, however, as a new hospitalization tower is being built above the ER.