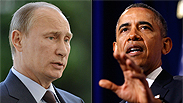 Putin, Obama
Photos: AFP, Reuters
WASHINGTON – Russian President Vladimir Putin initiated a phone call Friday night with US President Barack Obama, who was on a visit to Saudi Arabia, in order to discuss an American diplomatic offer to resolve the crisis in Ukraine, according to a White House statement.

Obama told Putin that the US continues to support the diplomatic track, which will only be allowed if Russia withdraws all of its troops from the Ukrainian border and takes no further violent measures that would harm Ukraine's sovereignty and territorial integrity.

The American president has recently sought for Russian support of a diplomatic solution to the crisis, which would include placing international observers in the region of Crimea in order to ensure that the Ukrainians of Russian decent in the area are protected, and the Russian soldiers return to their bases.

Related stories:

The Obama-Putin call was a continuation to an offer presented by US Secretary of State John Kerry to Russian counterpart Sergey Lavrov on behalf of western countries and Ukraine earlier this week. In the conversation between the two presidents, Obama suggested that Russia put a concrete response in writing and the presidents agreed that Kerry and Lavrov would meet to discuss next steps.

Friday's call was the fourth between Obama and Putin since the crisis in Ukraine began, and was the first call initiated by the Russian president in an attempt to formulate a solution.

Obama stressed that the Ukrainian government will continue to take a restrained and moderate approach to the crisis and will move forward in presenting a constitutional reform and democratic elections – which has been the US stance since the beginning of the crisis. Obama urged Putin to support the process and avoid additional provocation in the form of reinforcing military forces on the Ukrainian border.

In a CBS News interview aired Friday but recorded before the call, Obama said Russia is amassing troops along the Ukrainian border "under the guise of military exercises."

"It may simply be an effort to intimidate Ukraine, or it may be that they've got additional plans," Obama said. "And in either case, what we need right now to resolve and de-escalate the situation would be for Russia to move back those troops and to begin negotiations directly with the Ukrainian government, as well as the international community."

AP contributes to this report.