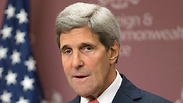 US Secretary of State John Kerry
Photo: AP
US Secretary of State John Kerry is trying to overcome the controversy surrounding the recognition of Israel as a Jewish state by changing the definition to "the national homeland of the Jews", the London-based Arabic Al-Hayat newspaper reported Saturday morning.

The report, that quoted western diplomatic sources, noted that in exchange for Kerry's initiative, the Palestinians would have to agree that the Palestinian capital would be established only in parts of East Jerusalem; it was further reported that the Palestinians have rejected the proposal.

A Palestinian source told the newspaper that the American side has expressed willingness to change the principle related to the recognition of Israel as a Jewish state and make it a requisite in a permanent agreement, however the Palestinians declined.

Related stories:

According to the report, the Palestinian side tends to pull the framework agreement out of the deliberations of fear it will be the new basis for negotiations that weaken the rights of the Palestinians. On the other hand, the newspaper claimed, the Israeli side has non-publicly expressed great enthusiasm to keep the agreement in place.

Meanwhile, western diplomatic sources said that if the formulating of the agreement will flounder, Kerry's plan is to extend negotiations until the end of the year.

It was further added that Kerry and his aide Martin Indyk updated Palestinian President Mahmoud Abbas that Prime Minister Benjamin Netanyahu informed them that his government will collapse if the fourth round of Palestinian security prisoners release will be executed, since it includes 14 Arab-Israeli prisoners.

The two, according to the report, demanded that Abbas agrees to extend talks in order to convince Israel to free the prisoners, yet Abbas rejected the effort claiming he is unwilling to discuss any matter related to the negotiations before the prisoners are released.

"While Kerry works to achieve a framework agreement, Martin Indyk examines the grounds to continue negotiations in case the framework agreement fails," Al-Hayat reported.