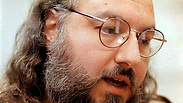 Jonathan Pollard
Photo: AP
Jonathan Pollard does not want to be freed from a US jail in exchange for Palestinians prisoners, Housing Minister Uri Ariel said Tuesday.

Ariel told Army Radio that people close to Pollard have told him that the convicted spy opposes such a "shameful deal." The minister, a member of the far-right Bayit Yehudi party told the radio that he, too, is against the release of murderers for Pollard.

Related stories:

The possibility of the US freeing Pollard, who was sentenced to life in prison in 1987, has been repeatedly raised in recent days, as the Americans scramble to salvage what is left of almost nine months of US-brokered peace negotiations.

American sources close to the negotiations said Monday that Pollard's release was "on the table" as a possible element in a peace deal, but in return, Israel would have to undertake significant concessions to the Palestinians.

Such concessions could include some kind of freeze on Israeli settlement construction, the release of Palestinian prisoners beyond those Israel has already agreed to, and a guarantee that Israel would stay at the negotiating table beyond the dealine at the end of April.

Some of Prime Minister Benjamin Netanyahu's far-right partners in his governing coalition have come out against any wider release of Palestinian prisoners, but Pollard's freedom could mute their opposition.

Israel's rightist government is balking at the release of the final of four groups of 26 Palestinians involved in deadly terror attacks against Israelis, while Palestinian President Mahmoud Abbas has stated that he would not continue the talks without the promised prisoner release. US Secretary of State John Kerry on Monday made his second unplanned visit to the region in as many weeks, to meet with Israeli and Palestinian leaders.

Israel has long sought Pollard's release, but its repeated requests have been consistenly rebuffed by Democratic and Republican presidents alike. The current administration said last week that freeing Pollard was not on the agenda. The spy is due for parole next year.