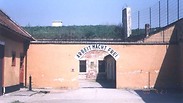 Entrance to Theresienstadt concentration camp
Photo: Liat Gross
An emotionally moving opera, which was performed by the children of Theresienstadt in front of a Red Cross delegation which arrived at the Nazi concentration camp to look into the conditions of its Jewish prisoners, will be staged in Israel for the first time Wednesday by students of the Walworth Barbour American International School in Even Yehuda.

Two weeks after the Theresienstadt children staged the opera, they were sent to the death camp and executed.

Mass for Dead

Young Jewish musician's promise to fellow Terezin concentration camp inmates finally fulfilled as Giuseppe Verdi's Requiem Mass played in Prague in their memory.

The opera, "Brundibár," was written by Jewish Czech composer Hans Krása together with writer Adolf Hoffmeister in occupied Czechoslovakia in 1939, and was presented for the first time at a Jewish orphanage.

In 1943, Krása was sent to the Theresienstadt concentration camp and staged the opera there 55 times with the children of the ghetto.

Holocaust survivors recalled the opera only in the late 1990s, and it was performed several times in Germany, Austria, the Czech Republic and South Africa.

Frannie Goldstein, American International School's music coordinator, ran across the story by chance and decided to stage the opera with her students. After a long search, she managed to locate Ella Weisberger, one of the only remaining survivors of the Theresienstadt ghetto, who participated in the original production and now lives in the United States.

Last August, Goldstein met with the 83-year-old Weisberger during an emotional tour of the Theresienstadt ghetto. A month later, rehearsals for the show began in Israel.

The participants include children from the US, Britain, Ireland, Korea, South African and the children of the Israeli Arab city of Shfaram.

The opera will be performed in Israel in Weisberger's presence, alongside US Ambassador to Israel Dan Shapiro and Education Minister Shai Piron.