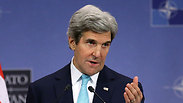 Kerry risks looking desperate
Photo: AFP
US President Barack Obama believes that Secretary of State John Kerry's peace efforts in the Middle East "may be reaching (their) limit," The Washington Post quoted American administration officials as saying on Friday.

"If he goes too far, there's the risk of looking desperate," one of the officials told the Post.

Talks have seemingly collapsed after an Israeli refusal to release the fourth and final group of Palestinian security prisoners led Palestinian Authority President Mahmoud Abbas to sign "letters of accession" to join 13 UN agencies.

Related stories:

The Palestinians also released a long list of demands to continue peace talks, one that Prime Minister Benjamin Netanyahu will have a hard time selling to his ring-wing cabinet.

Kerry, on his part, called on Netanyahu and Abbas to lead and work to avoid the peace talks from collapsing.

"You can facilitate, you can push, you can nudge, but the parties themselves have to make fundamental decisions and compromises," he said on Thursday. "The leaders have to lead and they have to be able to see a moment when it's there."

Some of Kerry's senior staff as well as White House staffers believe that it is time for the secretary of state to say "enough" and "lower the volume" on peace talks between Israel and the Palestinians and "see how things unfold."

"A point will come where he has to go out and own the failure," a US official said.

Administration officials said the secretary of state risks "being seen as trying too hard at the expense of a range of other pressing international issues."

Despite that, the administration believes the possible gains to be had from the peace process as worth any risk of failure, a US official close to Kerry told the Washington Post.

President Obama has supported Kerry's efforts and has gone "out of his way to both re-energize his own commitment to this at the beginning of his second term and also to very, very demonstrably empower Kerry," deputy national security adviser Ben Rhodes said.

But while Kerry's efforts have notably helped pushed the peace process forward by tackling the core issues of Jerusalem, borders and refugees more than in previous negotiations, they may not be "sufficient" to succeed if the two sides are unwilling, said Aaron David Miller, who helped formulate US Mideast policy for two decades at the State Department.

"The obituary will be that John Kerry cares more about this process than the Israelis and the Palestinians. I would argue that's not a terribly positive legacy," he added.