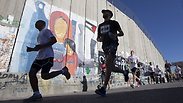 'Palestine Marathon' in Bethlehem
Photo: AP
For a second year in a row, runners from around the globe particiapted in the second annual Palestine Marathon, held under the banner the 'Right to Movement' this Friday in Bethlehem.
Some 3,000 runners made their way around the West Bank separation fence, passing checkpoints to complete the 42-kilometer (26 miles) course, Palestinian news agency Ma'an reported.
Israel claimed that the Palestinian Authority is trying to taint the sporting event with a political undertone, and indeed the event's theme seems to attempt to highlight Israeli restrictions on movement of Palestinians in the West Bank.
Organizers said around 2,500 participants hailed from across the Palestinian territories, while around 700 came from 39 different countries. Besides Palestinians, Denmark, the US, and the UK were the countries most represented in the race.