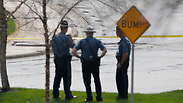 Police near the JCC
Photo: AP
Two shooting incidents in the Kansas City area, which left three dead, have cast a dark shadow over the Passover celebrations of the local Jewish community in the quiet Midwestern city.

"It's pretty traumatic," said David Wainestock, who rushed to the Jewish Community Center to retrieve his 16-year-old daughter who had been among the people temporarily locked down in the Jewish community center.

"The thought of something like that happening is terrifying," Wainestock said. "In the Midwest we think we're safe from this type of thing. But I guess it doesn't make any difference now."

Related stories:

The Jewish Community Center of Greater Kansas City in Overland Park posted on its Facebook page Sunday afternoon that a "shooting incident" happened near its White Theater entrance.

Rabbi David Glickman, of the Beth Shalom synagogue in Overland Park, was at home preparing for the Jewish Passover holiday when he heard the news of the shooting.

"Everybody is shocked that it would happen here," said Glickman. "This is a community that enjoys very strong and positive relations between the Jewish community and the rest of the community."

Kristy Straeb, 47, said her sister-in-law Stacie Ventimiglia was at the center's pool with a friend and four little girls under the age of 7 for a swimming lesson.

"They had just gotten the four babies naked, and somebody yelled into the family locker room, 'We have an active shooter situation. You need to get safe,'" Straeb said.

The women got into a cubby area and were "ready to push the little girls into four empty lockers," Straeb said. She noted that the women and their children were not harmed.

"Everyone participating in JCC programming has been released to their homes," the JCC posted later Sunday.

The Kansas City area has a Jewish community of about 20,000.

AP and Reuters contributed to this report.