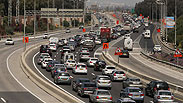 Traffic jams
Photo: Ido Erez
Israelis were slowly crawling along the country's main roads on Monday on their way to Passover Seder.

Main highways across Israel, like Highway 1 to Jerusalem, Highway 2 on the coastal plain and Highway 70 on the coastal plain and Western Galilee were all jammed. Traffic jams were also reported on Highway 6, Highway 65, Highway 4, Highway 85 and Highway 754.

The traffic jams started in the early afternoon, prompting the police to advise drivers to take alternative routes.

Heavy traffic was also expected on Tuesday evening, when Israelis make their way back home. Drivers should avoid Highway 42 in the Sharon plain, Highway 6 in central Israel and Highway 65 in the Wadi Ara area.
West Bank on lockdown
As of Monday morning, security forces have been in a state of alert. Police and Border Police increased their presence on roads, in parks and in crowded areas.

In addition, the alert was raised to level C, and three circles of security were created - from the seam zone to the center of cities, that include both mobile and immobile roadblocks.

Defense Minister Moshe Ya'alon decided to put the West Bank under lockdown until the night between Tuesday and Wednesday at midnight.

During the lockdown, entry would be permitted to "medical, humanitarian and exceptional cases," the military said.

"The IDF emphasizes once again that entry to area A of the West Bank is dangerous and forbidden by law, and entry to area B is not recommended. In addition, be careful of entering firing ranges and minefields, that are marked as such," the IDF Spokesman's Office said in a statement.

Magen David Adom also raised its alert for Passover and prepared accordingly. Hundreds of paramedics and volunteers will be ready across the country to respond to any call.
Limited access to Temple Mount
Earlier Monday, police limited Muslim access to Jerusalem's flashpoint Al-Aqsa mosque compound on the Temple Mount, fearing new violence after clashes over the weekend, a spokesman said.
As part of the security measures, male residents of Jerusalem would face age restrictions, said police spokesman Micky Rosenfeld.
"For men, only those aged 50 and over are allowed to pray, and women of all ages," he told AFP.
"It's a precaution that has been taken after a security assessment of the possibility of disturbances."