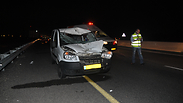 Fatal accident on Coastal Highway
Photo: George Ginsburg
Reuven Pedatzur, a senior Israeli journalist and lecturer, is one of the two people killed in fatal crashes after the Passover Seder late Monday night.
Pedazur, 66, was killed Monday at the Caesarea Interchange along Israel's coastal road, and a few hours later, a 30-year-old man was run over while walking on the side of Highway 6, near the Sorek Interchange.
Pedatzur was a senior military analyst for Haaretz, and also served as a senior lecturer of political science at Tel Aviv University. His fields of expertise were missile defense, nuclear and non-conventional weapons, the IDF's strategic doctrine and the conflict.
An initial investigation indicated that the motorcyclist Pedatzur was riding pulled over to the side of the road. Pedatzur then got off his bike and was run over by a passing vehicle. Hadera District policemen and car accident investigators arrived at the scene and detained the driver.
Related stories:
Magen David Adom paramedic, Adam Miller, said that when he and his team arrived at the scene of the accident they "found an unconscious men (Pedatzur) lying on the road with no vital signs and suffering from multisystem injury. We tried to perform CPR, but his injuries were extremely severe and we had no choice but to pronounce him dead."
Half an hour later, around midnight, rescue teams were called to treat another fatal accident on Highway 6. Magen David reported that a pedestrian was trampled to death by a vehicle not far from Sorek Interchange area. Paramedics were forced to pronounce the man dead upon arrival.
Following the accident on the coastal Route 2 highway, a heavy traffic jams were reported, from Or Akiva West Intersection to the Caesarea Intersection.