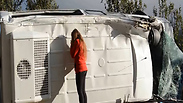 Overturned bus in Argentina
A bus carrying Israeli backpackers overturned Thursday morning in the area of the Seven Lakes Route in Argentina. One of the Israelis suffered a severe head injury, and the nine others were in light condition.
The Foreign Ministry has been notified and representatives of the Israeli consulate in Buenos Aires were expected to arrive to the area within the next few hours to visit the hospitalized Israelis and check on their condition.
10 Israelis hurt in bus accident (צילום: יוטיוב)
The young Israelis were travelling from the city of Bariloche in southern Argentina, on a road called The Seven Lakes Route. When the group was 70 kilometers from Bariloche, at 9:47 am (local time), the driver apparently lost control of the vehicle and it overturned several times.
The road accident occurred several hundred meters from Espejo Lake, and the wounded were evacuated to a local hospital. All the passengers on the bus were Israeli tourists, and according to local media reports, most of them suffered mainly bruises.
Raphael Dor, one of wounded Israelis, said: "Throughout the entire trip the driver drove very fast, overtook vehicles and cut lanes, and we prayed that we would arrive safely. We asked him during the trip to calm down and were very nervous. At a certain point there was a sharp turn and the driver couldn't brake. He stepped on the brakes, which had got locked, and then the minibus flipped over three times and hit the guardrail. If it weren't for the rail, we would have fallen into the abyss, our lives were miraculously saved. We're resting for now, and we still haven't decided what to do and if we should go to Chile like we planned."
Following the accident, the Israeli tourists contacted Nir Yonchelson, an owner of a hostel in Bariloche. "The group of Israelis slept here in the past couple of days and since I speak Hebrew, they contacted me right after the accident. When I got there, they were already at the emergency room and the road was opened to traffic.
Regarding the condition of those who were injured, Yonchelson said: "Everybody is fine, except for two who are still hospitalized, one in serious condition and one who will be released throughout the day. Everyone went back to the hostel to rest and recover from the trauma they experienced. I've been in touch with the families and the Foreign Ministry. The mother of the Israeli who was severely wounded is already on her way to Argentina."