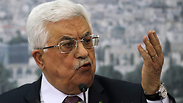 אבו מאזן נפגש עם סטודנטים ישראלים ב רמאללה
Photo: EPA
The era of the two-state solution may soon be rocked by a decision that could signal its demise. Palestinian President Mahmoud Abbas is mulling the merits of a proposal to dismantle the Palestinian Authority, Yedioth Ahronoth reported Sunday morning.

Palestinian sources confirm that the government in Ramallah was considering the unprecedented move. Senior sources in the IDF's Central Command, who recently met with the heads of the Palestinian security services confirmed their West Bank counterparts were sincerely debating dismantling and disarming the PA's forces.

"A new generation arrives and asks us: 'What have you done?' I am now 79 years old, I cannot escape from passing off the flag," said Abbas during a weekend interview with Egyptian newspaper Al-Masry Al-Youm.

Related stories:

"The settlements endanger the peace process, and the new generation sees the two-state solution is becoming less and less likely, and that there is no escape from the one-state solution."

Behind the scenes, the PA has concocted a plan to gravely complicate matters for Israel – a declaration that the Palestinians are an "occupied government."

Such a move would annul the Oslo Accords and revoke the status of the PA as a sovereign authority, leaving Israel with full responsibility of the Palestinian population in the West Bank.

If the plan proceeds, the Palestinian leaders will their official authority, but settlements will be significantly more vulnerable to litigation in international courts.

Officials in the Israeli administration have been informed of the dramatic threat, according to Palestinian sources. With the deadline for the end of the agreed-upon frame for the negotiations looming, the Palestinian Central Council will convene Saturday for a special conference.

"The proposal may be discussed at the conference, but it is not clear it will pass," said Palestinian sources.

In recent weeks, both Israel and the Palestinians have reached out, with the help of US mediators, in attempts to salvage the talks – after the fourth wave of prisoners release was cancelled and Abbas' efforts to join 15 international organizations, treaties, and conventions.