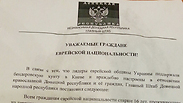 Flyer allegedly handed out to Jews
Photo: Olga Reznikova
Ukraine's prime minister voiced outrage at reports that masked men in east Ukraine's main city handed out leaflets demanding Jews register or be expelled, NBC News reported Saturday.

Members of the Jewish community in the pro-Russian protest hub of Donetsk in eastern Ukraine said Friday that they were left shaken by the distribution of tracts demanding the registration of Jews, Ynet first reported.

Prime Minister Arseniy Yatsenyuk said he wanted to "make a clear statement and urge the Ukrainian military and security forces and Ukrainian Department of Homeland Security urgently to find these bastards and to bring them to justice," he said in excerpts of an interview with NBC's "Meet the Press" to air in full on Sunday.

The incident happened as around 20 Jews were leaving the synagogue earlier this week. The three hooded men handing out the pamphlets were carrying a Russian flag and the symbol of the separatist Republic of Donetsk.

Meanwhile, the Jewish Press reported that At 2 am Saturday morning synagogue in Nikolayev in southern Ukraine was firebombed multiple times. The attack was caught on the synagogue CCTV system, and was posted online the son of the city's Chief Rabbi Sholom Gotlieb.

Reports of the anti-Semitic tracts sparked international concern, with US Secretary of State John Kerry branding the distribution of the pamphlets as "grotesque" and US President Barack Obama expressing "disgust."

Related stories:

According to Yatsenyuk, Russian President Vladimir Putin "has a dream to restore the Soviet Union. And every day he goes further and further and doesn't know where is the final destination.

"I consider that the biggest disaster of this century would be the restoring of the Soviet Union under the auspices of President Putin," he said.

Washington, Kiev and many EU states see Russian President Vladimir Putin as pulling the strings in Ukraine's insurgency, sending in special forces that he repeatedly denies are there.

The Kremlin has snapped back by stressing it has part of its army on Ukraine's doorstep — a declaration that appeared to be a warning shot that the situation could rapidly deteriorate if Washington were to impose further sanctions.

Washington has warned Moscow that Ukraine is in a "pivotal period" as pro-Russian rebels there refuse to comply with a Geneva accord reached Thursday by Russia, the US, Ukraine and the EU to disarm and leave occupied public buildings.

Poland's defense minister has said US ground forces will be sent to his country to expand NATO's presence there as events unfold in neighboring Ukraine, The Washington Post reported.