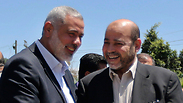 Hamas PM Ismail Haniyeh meeting with Moussa Abu Marzouk
Photo: Reuters
A senior Hamas leader based in Egypt arrived in Gaza on Monday to prepare for talks aimed at reaching a reconciliation agreement between the two rival Palestinian groups, Hamas and Fatah.

Moussa Abu Marzouk, responsible for external affairs, met with Hamas prime minister Ismail Haniyeh ahead of a visit by Fatah officials on later this week.

The Fatah delegation of five people will arrive at the Gaza Strip within 48 hours to meet with both Haniyeh and Mousa Abu Marzouq, Palestinian news agency Ma'an quoted a PLO official based in Egypt as saying.

Related stories:

"We are going to Gaza not to propose new suggestions, but rather to carry out a clear mission which is to end the state of disagreement and address three decisive issues," Azzam al-Ahmad told Ma'an.

"We are going to address the formation of a national consensus government, elections and restructuring the PLO in order to maintain Palestinian unity so we can dedicate our efforts to confronting Israeli occupation," he went on to say.

Hamas freed 10 Fatah prisoners, detained for disturbing the public order, ahead of the meetings as a good-will gesture.

Palestinians have been divided since 2007 when Hamas took control of the Gaza Strip from forces loyal to Palestinian Authority President Mahmoud Abbas of Fatah. Since then, Hamas has ruled Gaza while Abbas governs some areas in the West Bank.

Fatah and Hamas signed a reconciliation agreement to end the political division between the two territories in 2011. But most clauses are unheeded and deadlines are constantly postponed.

Al-Ahmad told Ma'an the meeting was likely to set a deadline for forming a unity government that will begin implementing the Cairo agreement.

AFP and Ynetnews contributed to this report.