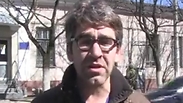 Israeli-US reporter simon Ostrovsky kidnapped by Ukraine militants
Pro-Russian separatists in eastern Ukraine on Wednesday confirmed they are detaining Simon Ostrovsky, a US-Israel journalist working for Vice, who went missing in the country.
Self-declared separatist mayor of Slaviansk Vyacheslav Ponomaryov told reporters that the journalist, Simon Ostrovsky, had been detained for reporting what he said was false information that was "destabilizing for us".
Mayor Vyacheslav Ponomaryov said that Ostrovsky was being well-cared for. "There's nothing wrong with Ostrovsky. He is with us, he is feeling well and in a clean place. He is not a hostage but our guest. We only gave him a place of residence."
Related stories:
Gunmen detained Ostrovsky on Monday night along with a number of other reporters who have since been released. New York-based Ostrovsky immigrated to Israel three years ago, but returned to the US to work for Vice.
Vice said on its website that it was in contact with the US State Department and other government authorities to work toward securing the safety of its journalist.
His friends and colleagues describe Ostrovsky as brave and adventurous man, who has traveled to remote places and got into "trouble" before. Roza Sinaysky, one of Ostrovsky's close friends said that "the situation in Ukraine is very delicate at the moment and anyone with a camera who tries to ask questions is at risk of being kidnapped."
"Simon is a curious man who wants to understand things from a journalistic point of view; it's not as if he was kidnapped for a specific political agenda," added Sinaysky.
Against the backdrop of the anti-Semitic leaflet in Donetsk last week, Sinaysky expressed concern that Ostrovsky's Jewish identity may worsen the situation for him.
The Foreign Ministry in Jerusalem said that the Israeli embassy in Kiev is involved in the matter, and is conducting an inquiry regarding into his condition.
US State Department spokeswoman Jen Psaki expressed deep concern at the kidnapping of the journalist and condemned any hostage taking in eastern Ukraine.
"We call for their immediate release and call on Russia to use its influence to ensure they are freed immediately," Psaki said at a news briefing in Washington.
Itay Blumenthal and Reuters contributed to this report