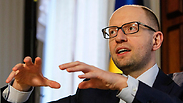 Ukrainian PM Arseniy Yatsenyuk
Photo: Reuters
Ukrainian Prime Minister Arseny Yatseniuk accused Russia on Friday of wanting to start World War Three by occupying Ukraine "militarily and politically".

"The world has not yet forgotten World War Two, but Russia already wants to start World War Three," Yatseniuk told the interim cabinet in remarks broadcast live. "Attempts at military conflict in Ukraine will lead to a military conflict in Europe."

In some of the strongest language he has yet used in a war of words between the former Soviet neighbours, as both sides have deployed troops close to their frontier, Yatseniuk accused Moscow of acting like a "gangster" supporting "terrorists".

Related stories:

"It is clear that Russia's goal is to wreck the election in Ukraine, remove the pro-Western and pro-Ukrainian government and occupy Ukraine politically as well as military," added the premier.

Yatseniuk took office in February after pro-European protests prompted the Kremlin-backed president to flee to Russia.

Ukraine plans to hold an election to replace Viktor Yanukovich on May 25, but the Russian-speaking east of the country has been disrupted by pro-Moscow militants who have taken over the city of Slaviansk and public buildings elsewhere, demanding to follow Crimea into being annexed by Russia.

Russia denies involvement but has denounced the Ukrainian government, which it says is illegitimate and backed by "fascist" Ukrainian nationalists, and has threatened to move in to protect ethnic Russians and Russian-speakers in Ukraine.

Yatseniuk called on Moscow to fulfil obligations to persuade activists in eastern Ukraine to lay down arms under a four-way agreement signed last week in Geneva by the two governments, as well as Ukraine's U.S. and EU allies.

"Russia's support for terrorists and bandits who torture peaceful citizens is an international crime. It is a crime against humanity," added the prime minister.

Ukraine's state security service has accused Russian military intelligence officers in Ukraine, and the separatist leader in Slaviansk, of involvement in the torture and murder of a local councillor from Yatseniuk's Batkivshchyna (Fatherland) party.

The prime minister said Kiev was still waiting for a response to an official request for details of Russian military exercises on the border. It made the request through mechanisms of Europe's OSCE security body and set a deadline of Saturday.

The defence minister, quoted by Interfax-Ukraine news agency, said Russian troops on manoeuvres had come within one kilometre (1,100 yards) of the border but had not crossed.

Yatseniuk said: "If the United States, the European Union and the entire international community continues to be united and act together to compel Russia to fulful its obligations, then we will maintain the peace, stability and international security system that Russia wants to destroy."
Bloody crime
Russia warned Kiev on Friday that it would face justice for a "bloody crime" in eastern Ukraine, where Ukrainian forces killed up to five pro-Russian rebels a day earlier, while Washington said Moscow was running out of time to defuse the crisis before facing further sanctions.
"They (Kiev) are waging a war on their own people. This is a bloody crime, and those who pushed the army to do that will pay, I am sure, and will face justice," Russia's foreign minister, Sergei Lavrov, told a meeting of diplomats.
Credit rating agency Standard & Poor's also provided a reminder of the costs of the dispute to Moscow, as it cut the country's ratings, forcing Russia's central bank to raise its key interest rate to reverse a drop in the rouble.
Lavrov said Moscow was committed to implementing an agreement struck in Geneva on April 17 between Ukraine, Russia, the United States and the European Union to ease tensions in Ukraine and disarm illegal groups but accused Washington of distorting it with "one-sided demands".
The Defence Ministry said it was ready for "unbiased and constructive" talks with the United States to stabilise the situation.
U.S. President Barack Obama, who accuses Moscow of sending agents to coordinate the unrest in the east, as it did before seizing Ukraine's Crimea region in February, is planning to call allies in Europe later in the day to nudge them towards tougher sanctions.
"The window to change course is closing," U.S. Secretary of State John Kerry said late on Thursday, citing Obama's earlier comments that Washington was ready to impose new sanctions, on top of those imposed after Crimea was annexed.
Kerry said Russia was using propaganda to hide what it was trying to do in eastern Ukraine - destabilise the region and undermine next month's Ukrainian presidential elections - and denounced its "threatening movement" of troops up to Ukraine's border.
"If Russia continues in this direction, it will not just be a grave mistake, it will be an expensive mistake," Kerry said.
Russian President Vladimir Putin has scoffed at the sanctions so far imposed, which have been limited to travel bans and overseas assets freezes on individuals.
Ukraine said Russian troops conducting exercises had approached to within 1 kilometre (1,100 yards) of the border and that aircraft had also taken part in the manoeuvres. It said it would treat any incursion as an invasion.
Prime Minister Arseny Yatseniuk said Russia wanted to start World War Three by occupying Ukraine "militarily and politically" and creating a conflict that would spread to the rest of Europe.
Ukrainian special forces launched a second phase of their operation in the east of the country on Friday by mounting a full blockade of the rebel-held city of Slaviansk, an official on the presidential staff said.
One of its military helicopters was hit by rocket fire and exploded while on the ground at an airport near the city, the Defence Ministry said.
Interior minister Arsen Avakov insisted every care was being taken to avoid non-combatant casualties, after Moscow warned it may act if Kiev used the army against civilians.
German foreign minister Frank-Walter Steinmeier meanwhile suggested that the United States, the EU and Russia should make a joint high-level trip to hotspots in Ukraine with local officials to signal political backing for the Geneva agreement.
A German government spokesman told reporters on Friday that Russia had done nothing to implement the agreement, and Chancellor Angela Merkel had called Putin to urge action.
During that call, Putin called for urgent talks between Russia, the EU and Ukraine on Russian gas supplies to Europe, which are now under threat over the crisis in Ukraine, through which much of the gas is piped.