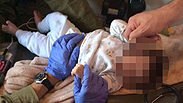 A Palestinian baby who was suffocated treated by IDF soldiers
A Judea and Samaria Division's Medical Officer saved the life of a one-month-old Palestinian baby who suffered from respiratory arrest on Friday night.

The infant was brought by her parents from the village of Beitin near Ramallah to the checkpoint near the division's headquarters, close to the settlement of Beit El. An officer from the division noticed a young Palestinian couple running in panic towards the checkpoint, carrying their infant daughter in their arms.

The parents told the officer that their older child accidently caused their baby daughter to suffocate when she leaned over her. The officer then summoned a military ambulance from a nearby base to the area, while a Red Crescent ambulance was also called.

Related sotries:

"A doctor gave the baby initial treatment inside a military vehicle. She was apathetic and the doctor stabilized her, and after a few minutes managed to normalize her breathing," an operations coordinator in the area, who was present at the scene, told Ynet.

"We talked to the parents while we were treating the baby and gave them information regarding their daughter's condition. After she was stabilized, we transferred her to a Palestinian ambulance and she was taken to a hospital in Ramallah for further treatment. Later in the evening we contacted our Palestinian counterparts and confirmed that the baby was treated in the hospital and that her condition was good. Her parents talked with us and thanked us for our help," the source said.

According to the source, the frequency to which Palestinians receive urgent medical treatment in IDF army posts stands on several times a month.

"During Passover's intermediate days we treated a 3-year-old boy from Ramallah who suffered a severe head trauma resulting from a fall. We gave him an initial treatment and transferred him to Sheba Medical Center in Israel. On another instance, a Palestinian man arrived to the checkpoint after being seriously cut by a chainsaw in his home – he too was transferred to Israel further medical treatment," the source said

"The policy is to give immediate assistance to those arriving to the checkpoint – whether they're Palestinian or Israeli," he added.