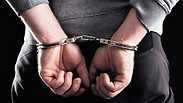 Illustration
Photo: Shutterstock
Israel was expected to deport a suspected British Jewish pedophile following a Central District Court ruling that allows the state to deport rather than extradite suspected criminals who entered the country illegally, the Jewish Chronicle reported this week.

Todros Grynhaus, 48 from Salford, was charged with seven sexual assaults on children in Manchester.

He violated his bail conditions last year when he went on the run with his wife and children, fleeing Britain with a fake passport. He was arrested in February in Jerusalem after the British police issued an international warrant for his arrest.

Grynhaus hired two Israeli legal teams to fight his deportation by trying to gain Israeli citizenship under the Law of Return, or otherwise seeking to settle in countries that don't have extradition agreements with the UK.

Israeli law only allows formal extradition of foreign criminals, a process that could take up to two years and risk the possibility that Grynhaus could be released from prison during the proceedings.

Grynhaus's lawyers tried to force Britain to use complicated extradition powers rather than allow Israel to deport him back to England, to draw out the proceedings against him.

But District Court Judge Dana Marshak-Marom ruled that Grynhaus's "failed efforts" to avoid being returned to the United Kingdom strengthens Israel's legal authority to deport him and other suspected foreign criminals.

Late last year, the High Court of Justice issued a landmark ruling denying Grynhaus an Israeli citizenship and with that banning other Jewish sex offenders of using the Law of Return to gain citizenship.

"Without such (legal) interpretation it would encourage criminals from across the world to use Israel as a place of refuge as (Grynhaus) has attempted to do," Marshak-Marom, who commended the High Court's ruling, was quoted by the Jewish Chronicle as saying.

Grynhaus, however, will be able to make one final appeal before a final decision could be made on his deportation.

He was set to stand trial in Manchester upon his return to the UK.