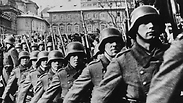 Nazi soldiers. 'It didn't happen on a different planet. It happened 70 years ago, in Europe'
Photo: gettyimages
For years after returning from the hell created by the Germans of the Third Reich, I tried to understand the reason for the unfathomable and irrational hatred – if one can call it that – towards us.

How is it that tens of millions of allegedly normative people became worse than predators? After all, most predators only kill when they are hungry or feel threatened. The Germans were definitely not hungry and couldn't have felt threatened by the Jews. Did we declare war on them? Did we claim territories from them?

Painful Memories

Survivors use Israel's Holocaust Rememberance day to think back on some of their most difficult memories.

It's true that in order to justify their impossible acts, the mass murder in cold blood and in the most sadistic methods of millions of men, women and children, according to a well-calculated plan – they claimed that the Jews were planning to take over the world. And they, the courageous Germans, decided to rescue humanity from this danger. There is no need to state just how false and ridiculous this claim was.

The years went by and, needless to say, I failed to find any explanation to the Germans' wild and unrestrained behavior, to that unprecedented hatred in human history. I have reached the conclusion that there is simply no answer and no explanation. Other than, of course, the anti-Semitism which has turned into a real disease and tradition passed on from generation to generation, up to this very day.

The Germans, as an advanced and organized nation, did not settle for allegedly spontaneous pogroms, like the Crusades or the 17th-century pogroms in Ukraine and Russia. The Inquisition era in Spain didn't serve as a model to them either. No, the Germans murdered and destroyed according to a method and a plan, loyal to their dominant "motto": "Ordnung muss sein" – there must be order.

This "order" cost us six million victims, and in many cases the murderers' initiatives actually deviated from the "order." For example, when SS officers held a baby by its legs and smashed its head on a wall or tree. Or when they rolled Jews with dozens of rocks into a quarry or some kind of abyss.

The Germans' hatred – and the hatred of tens of thousands of their accomplices in the occupied states like Ukraine, Lithuania, Hungary, Latvia and Poland – became a real obsession which went beyond all limits and all logic. They favored the annihilation of the Jews over moving forces to the fronts, when they made the few trains they had left available for the transports to the death camps and only later used them to move the soldiers to the fronts.

Monday's March of the Living is dedicated to the memory of more than 400,000 of Hungary's Jews who were annihilated from May to July 1944 in the gas chambers and rifle pits in Birkenau, within just 11 weeks. About 40,000 a week.

On June 6 that year, the Allied forces landed in Normandy and advanced quickly towards the Reich borders. Everyone knew that was the end of Germany. But Eichmann and his people persisted and even increased their pace.

They feared that they would not manage to exterminate Hungary's Jews before the end of the war. The fate of their homeland was of no concern to Eichmann or his supervisors. As long as they would succeed in annihilating the Jews.

I know that these things sound impossible. But these are the facts. And it didn't happen in prehistory or on a different planet. It happened 70 years ago, in Europe, by a nation considered extremely advanced and developed.