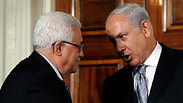 Prime Minister Netanyahu and President Abbas
Photo: Reuters
Israel has begun implementing economic sanctions against the Palestinians, after threatening to do so in wake of their new bid to join some UN organizations and recently announced unity deal between rival Fatah and Hamas, a senior Palestinian told Ynet Monday evening, a mere day before peace talks reach their deadline.

Israel confirmed additional sanctions Monday, saying has frozen plans to build housing for Palestinians in Area C of the West Bank, which is under full Israeli control. An official from the Defense Ministry's administration in the Palestinian territories said that the decision was made after the Palestinian Authority applied to join a dozen international organizations and treaties, including the Geneva Conventions last month.

Related stories:

Palestinian President Mahmoud Abbas signed the applications in a live televised ceremony after Israel failed to carry out the release of 26 long-term Palestinian prisoners to which it agreed last summer as part of US brokered peace talks. The Palestinians announced a renewed bid Sunday night, promising to join some 60 organizations.

The source further told Ynet that Israel informed the Palestinian leadership of its intention to begin deducing debt owed by the Palestinians from tax funds Israel collects on its behalf, as punishment for the recent moves. The news will likely further strain relations with Washington.

An Israeli official told the New York Times Monday evening that Israel had in the past received "a specific commitment from the American administration" backing its decision not to negotiate with any government which includes Hamas – a group classified as terror organization by Israel, US and EU. Prime Minster Benjamin Netanyahu recently said that Hamas is planning to start a new Holocaust.
Source details sanctions
Israel collects taxes for the Palestinian Authority worth roughly half a billion shekel a month, which includes VAT on products intended for the West Bank and Gaza.

According to the senior Palestinian source, Israel regularly deducts a 100 million shekel from the funds for past debts by the Palestinians to Israel Electric Corporation which supplies the West Bank and Gaza, and sewage services.

However, the source said that Israel has now raised its fixed deduction to 132 million in response to the UN bid.

The PA is facing a serious financial crisis, and the cut is expected to further threaten its cash flow. However the cut will not lead to a break down in the PA's ability to enforce the rule of law and pay salaries to its security organs and officials.

The source further said that the PA requested a monthly transfer of some $100 million from the Arab League, fearing Israel would further threaten economic instability.

The source claimed that Israel's announcement was passed onto Palestinian Prime Minister Rami Hamdallah as well as a number of Palestinian officials by Maj.-Gen. Yoav Morderchai, the Coordinator of Government Activities in the Territories, who refused to comment but said it acts in accordance to decision made by the political echelon.

A list of the sanctions Israel is expected to implement was also given after Israel announced it would freeze Palestinian construction in the West Bank:

1. The authorization for installing a G3 cellular network in the West Bank would be canceled.

2. The authorization for extending the activities of Palestinian mobile network Wataniya Mobile would be canceled.

3. No meetings at the ministerial or ministry director general level would be allowed to take place between Israelis and their Palestinian counterparts.

4. A freeze in a program which was expected to see some 14,000 dunam in Area C turned into Palestinian agriculture lands.

5. A freeze in deepwater drilling in the Gaza Marine gas field.

6. A freeze in funds transfers belonging to Palestinians in Israeli banks

7. Harming the freedom of movement enjoyed by senior Palestinian polticians and businessmen who have a VIP pass.
Apartheid
The US denied Monday that US Secretary of State John Kerry thinks Israel is an "apartheid state" but failed to deny comments attributed to him in which he insinuated Israel would become one should peace talks fail.

Kerry reportedly warned foreign leaders in private discussions on Friday that Israel will risk becoming "an apartheid state."

State Department Spokeswomen Jan Psaki said "I'm not going to confirm the accuracy of comments made during a private meeting. But the secretary does not believe and did not state publicly or privately that Israel is an apartheid state. Israel is obviously a vibrant democracy with equal rights for all of its citizens."

AIPAC slammed comments attributed to Kerry, saying "any suggestion that Israel is, or is at risk of becoming, an apartheid state is offensive and inappropriate." AIPAC further said in a statement that "the Jewish state is a shining light for freedom and opportunity in a region plagued by terror, hate and oppression."

House Republican leader (R-Va) Eric Cantor also slammed the comments, and said "reports that Secretary Kerry has suggested Israel is becoming an apartheid state are extremely disappointing," Fox reported

Cantor, who is Jewish, said in a statement. "The use of the word apartheid has routinely been dismissed as both offensive and inaccurate," He urged Kerry to "apologize to the Israeli government and people."

Yitzhak Benhorin contributed to this report from Washington. Background information for the report was taken from AFP.