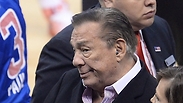 Los Angeles Clippers owner Donald Sterling. 'A simple bigot'
Photo: AFP
Dear Mr. Sterling,

I read and heard the nasty, vile racism that was allegedly spoken by you to your mistress. Despite you changing your name from the Jewish sounding Tokowitz to the more Anglo-Saxon sounding Sterling, it turns out that you were born to Jewish parents and are thus Jewish. It is therefore as a rabbi and fellow Jew that I write you this letter.

Frankly, Mr. Sterling, the fact that an educated person can talk this way is as mind-boggling as it is disturbing. If this is in fact your voice on the tape, make no mistake about it – you are a simple bigot.

Bad Taste

Extended recording of Donald Sterling sees him make additional racist remarks, belittling 'black Jews' and claiming they are worth less than 'white Jews' during conversation with girlfriend.

I would, however, like to assure you that the Jewish religion sees no difference between black or white Jews. In fact, our Torah mandates us to treat all people with the same level of love and respect no matter what the color of their skin is. Our Torah teaches us that all humans were created in the image of the Divine.

It the bigotry in the recordings attributed to you, Mr. Sterling, that brings degradation to the Divine image. Furthermore, I would like to bring to your attention the fact that the law mentioned more times than any other in the Torah is the obligation to treat the "stranger" with equal respect and dignity to how one treats one's own kind.

Furthermore, the suggestion, contained in the recording, that society somehow sees black people as being lesser than white people is deeply offensive. Whilst the people you keep company with might feel this way, I assure you that most of society do not share those bigoted beliefs and views. The people I spend time with do not see a difference, not do they judge others, based on the color of skin. If that is you in the recording (and it seems that it is), it is offensive in the extreme to suggest that society at large is in your image.

But it does not stop there, in the recording attributed to you, you allegedly malign the people I am most proud to be associated with, Jews, and a country I love and care about deeply, Israel. The fact that one can mischaracterize Israeli society as treating black Jews "like dogs" is stunning. Whilst it is deeply regrettable that there are some racists in Israel who share your nauseatingly repugnant sentiments, most Israelis are certainly not racist, and I am pleased to inform you that black and white Jews in Israel are given equal opportunities and treated with equal respect by the society as a whole.

Is it not ironic Mr. Sterling, that you were embarrassed of your Jewish-sounding last name and now the tables are turned and we Jews are embarrassed of you.

It is my hope that this will lead to some real soul searching on your part so that you recognize that the problem is not with society but within you. I pray that you are able to fully repent for the deep offense that you have caused to the society around you, the African American community and to the Jewish people both here in the United States and in Israel.

Meanwhile, I am left with no choice but to call upon my fellow Jews and Jewish establishments to condemn you and your vile comments. I hope we will hear a choir of voices doing so.

In anticipation of a full and sincere apology,

Rabbi Levi Brackman

Rabbi Levi Brackman is co-founder and executive director of Youth Directions , a non-profit organization that helps youth find and succeed at their unique positive purpose in life.