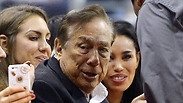 The National Basketball Association banned the Jewish owner of the Los Angeles Clippers, Donald Sterling, from the game for life and fined him $2.5 million for racist comments made public over the weekend, the league's commissioner said on Tuesday.

Sterling, the longest-tenured owner of any of the 30 NBA teams, will not be allowed any role in the operations of his team or be able to serve as one of the league's governors, NBA Commissioner Adam Silver announced at a news conference in New York.

The $2.5 million fine will be donated to organizations dedicated to anti-discrimination and tolerance efforts that will be jointly selected by the NBA and the Players Association, Silver said.

Related stories:

The controversy began over the weekend when the celebrity website TMZ.com released an audio recording with a voice said to be Sterling's criticizing a friend for associating with "black people."

An investigation into the recording concluded the voice was Sterling's Silver told reporters.

"The man whose voice is heard on the recording and on a second recording from the same conversation that was released on Sunday is Mr. Sterling," said Silver, who is confronting his first major crisis since he was named commissioner in February. "The views expressed by Mr. Sterling are deeply offensive and harmful."

Sterling's comments caused a wave of outrage from fans, players and coaches of the league, which was on the forefront of racial integration in US professional sports, all the way to Barack Obama, the first black US president, who blasted the "incredibly offensive racist statements."

The move may not be enough for some critics, who called on Sterling to give up ownership of the team, though observers said the other 29 owners of NBA franchises were not likely to back any move that could set a precedent that would harm their property rights.

Silver said he would call on the owners to vote to force Sterling to sell the team. Such a move would require approval of three-quarters of the current owners.

The league acted after several team sponsors including auto dealer CarMax Inc, Virgin America, State Farm, Kia Motors America, music mogul P. Diddy's water brand, AQUAHydrate, Red Bull and Yokohama Tire all announced on Monday that they were stepping back from the team.

Some advertisers have asked to move their commercials out of the national broadcast of Tuesday's Clippers playoff game against the Golden State Warriors by TNT, owned by Time Warner Inc, and the local airing on a sports channel owned by 21st Century Fox, according to sources familiar with the matter.

Sterling bought Clippers in 1981 at a time when basketball was far less commercially successful than it is today, and the franchise could now be worth as much as $800 million, estimated Robert Boland, chairman of the sports management department at New York University.