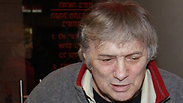 Assi Dayan. 1945-2014
Photo: Rafi Deluya
The iconic filmmaker, screenwriter and actor Assi Dayan passed away on Thursday morning at the age of 68. Dayan, one of Israel's cultural heroes, was found dead in his home in Tel Aviv. A Magen David Adom paramedics team was alerted to his home, but pronounced him dead upon their arrival. Dayan had battled serious health problems in recent years.
Dayan, one of Israel's cultural heroes, directed some of the country's most well-known films, including 'Halfon Hill Doesn't Answer', 'Life According to Agfa' and 'An Electric Blanket named Moshe.
Award-Winning Show
American version of Israeli show wins best supporting actress, best guest appearance honors. We faced some stiff competition, says show's creator
He also starred in the film "He Walked Through the Fields" and in the popular television drama "BeTipul" (In Treatment), whose American adaptation was widely acclaimed.
"My baby is gone and this is not the age when you expect the anchor to fall," his 97-year-old mother Ruth said, speaking to reporters outside his home.
Assi Dayan was was born on November 23, 1945 in Moshav Nahalal, in northern Israel, to Ruth and Moshe Dayan,
the noted IDF general and defense minister.
After his military service in the paratroopers corps, he went on to study philosophy and English literature at the Hebrew University in Jerusalem. After finishing his studies, Dayan embarked on a career as an actor and later film director and screenwriter.
Dayan, who had four children from three marriages, had a tumultuous personal life. He was open about his bouts of drug and alcohol abuse and suicidal tendencies.
"Today we lost one of our greatest artists, not just in film but in all culture," actress Gila Almagor told Ynet. "Assi was a guiding light, a multifaceted genius."
Associated Press contributed to this report.