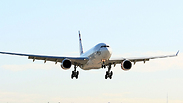 Illustration
Photo: Getty Images
Barred by sanctions from buying Western airliners since the 1970s, Iran has pent-up demand for 400 new planes, Tehran's top aviation official was reported as saying, offering potential billions to manufacturers such as Airbus and Boeing.
Iran won limited relief from Western sanctions after agreeing to curtail its nuclear activities for six months under an interim accord with world powers which took effect in January.
A complete lifting of sanctions would require a comprehensive deal to end a decade-long stand-off over what Tehran maintains is a nuclear program for peaceful energy purposes.
Related stories:
"Iranian airlines will be ready to buy 40 passenger planes every year for 10 years if sanctions are lifted," said Ali Reza Jahangirian, head of Iran's Civil Aviation Organization, the Ettelaat newspaper reported on Thursday.
The 400 figure confirmed the top end of a range reported by Reuters in November citing a senior Iranian official.
Boeing and Airbus, which took orders for more than 2,800 aircraft from airlines and lessors in 2013, would likely lead the battle for Iran's business.
Canada's Bombardier, Embraer from Brazil and Russia's Superjet could also secure orders for the smaller airliners they produce along with engine makers GE Aviation and Rolls-Royce.
'Not functional' planes
Jahangirian said out of Iran's 250 commercial planes, about 150 were flying while the rest are "not functional" due to a lack of spare parts.
"We have got very positive signals from Western companies, including Boeing Co. and General Electric Co. (GE) about getting new spare parts for our planes," he said.
The current, preliminary deal allows for the limited sale of commercial plane parts and services to Iran, whose fleet includes vintage Boeing and Airbus airliners.
GE has won US Treasury approval to service 18 engines sold to Iran in the late 1970s. They will be serviced at facilities owned by GE or Germany's MTU Aero Engines, which is licensed to do the work.
Iran's four largest carriers – Iran Air, Iran Aseman Airlines, Mahan Air and Iran Air Tours – all have average fleet ages above 22 years, Iranian media have reported.
They serve a market of 76 million people in a country whose vast oil and gas reserves could help draw foreign companies once sanctions are lifted.
President Hassan Rouhani was elected last year on a promise to improve Iran's relations with the outside world. He has invited Western companies to seize investment opportunities in the Islamic state.
Tehran has also repeatedly said it was determined to reach a comprehensive nuclear deal with major powers so it can develop its battered economy.
Iran will resume negotiations with the United States, Britain, France, Germany, China and Russia in Vienna on May 13 aimed at a long-term deal.
The American embassy seizure in Tehran in 1979 led to US sanctions on Iran, which have been broadened in the past decade over Iran's perceived nuclear ambitions.