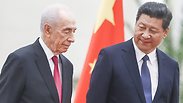 President Shimon Peres with Chinese President Xi Jinping
Photo: EPA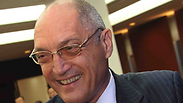 The media has been flooded recently with statements about Israel's relationship with China. Most of these allegations are baseless and could cause significant damage to vital Israeli interests.

As a person who has been involved in Asia and China throughout most of his professional life, I am amazed by the odd mixture of Sinophobia, xenophobia, ignorance, interests and populism motivating this important discourse.

Matter of Interests

Op-ed: Netanyahu should put effort in pressuring Chinese to sell less knowledge, fewer deadly weapons which could critically harm Israel.

The main mistake is to judge the Chinese conduct according to our acceptable criteria without addressing China's unique historic and cultural characteristics.

China is drawn to the center of the global stage at an unprecedented rate. Within 60 years, it has turned from a country of 400 million people living in great poverty to one of the most influential states in the world. It was not the Chinese's goal to reach this position, and they would rather see this process take much longer.

Since the days of the Caesarism to this very day, the Chinese leadership has looked first of all inwards, and although it has always sanctified territorial integrity, it has not and will not have any expansion ambitions.

The primary challenge the Chinese leadership is dealing with is preserving the economic growth rate, which serves as the main source of support for the regime's stability. China's moves in the foreign policy area are directed at that same goal as well. China has no interest in creating a region of influence here or anywhere else, apart from securing markets and access to energy and other natural resources.

While the US support for Israel is wearing thin and the hatred and animosity towards Israel are growing in Europe, among the Chinese leadership and public there is a broad base of sympathy towards Israel, based on the fact that the Chinese society is unfamiliar with anti-Semitism and believes in the Jewish genius.

China sees Israel as a role model. The gross domestic product per capita in Israel and the number of Israeli Nobel Prize laureates in the field of science are an object of admiration among the Chinese.
Window of opportunities
China is going through economic and social processes which Israel can contribute to. There is no reason for the State of Israel, with all its abilities and unique advantages for the Chinese, to give up on major business options. And the possibilities are almost unlimited.
About three years ago, 60% of the shares of Israel based company Makhteshim Agan were acquired by a Chinese company. On the eve of the acquisition, concerns were raised over the Chinese takeover. There were talks of a mass dismissal and loss of control. There were no dismissals, and the Chinese do not intervene in the regular management of the joint company, which may turn into one of the biggest in its field in the world.
Most Israeli companies operating in China are not as big. Most of them are small and medium-sized and are finding it difficult to infiltrate the complex Chinese market. The government is not doing enough to help these companies, and the result is that the level of Israeli activity in the Chinese market does not match its potential.
A lot has been said about China's conduct on political issues involving Israel. It's important to understand that the pattern of its votes at the United Nations is similar to the conduct of our friends in Europe. Its conduct on the Iranian nuclear issue stems from its view of the interest in the international arena, and does not stem in any way from an anti-Israel policy.
Our relationship with the United States is also mentioned in this context. It has been claimed that a Chinese outpost, like a railway to Eilat, will not be seen favorably by our ally. Such statements are the clear product of ignorance. As a person who was involved in this field, and who was also in touch with policy makers in the US, I can say for certain that economic cooperation with China will not jeopardize our relations with the US.
After all, the US itself is tied to China in a thick web of financial, economic and industrial cooperation.
A sensible management of our economic relationship with China holds strategic importance for our shrinking economy. We must continue deepening our relations with China and expanding them in other fields such as tourism, science and culture. This window of opportunities will not remain open forever.
Amos Nadai served as Israel's ambassador to China from 2007 to 2012 and as director-general for Asia and the Pacific at the Ministry of Foreign Affairs.