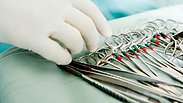 Illustration
Photo: Shutterstock
Israelis who owe money to loan sharks are being forced to sell organs abroad in order to pay back their debts, the head of Israel's Enforcement and Collection Authority has warned the deputy attorney general, in a letter obtained by Ynet.

The letter by David Madioni to Avi Licht paints a dark picture of black market moneylending in Israel. Known debtors are requesting permission to leave the country, he claims, with the express intention of selling organs.

Madioni notes in the letter that a number of debtors have recently visited his office in Tel Aviv, seeking to abolish restrictions on them leaving the country. These people, Madioni writes, told him their trips are expressly in order to sell organs to clear their debts.

Related stories:

"I clarified that each is in debt to loan sharks in addition to existing debts (dealt with by the state)," reads the letter to Licht. "Black market elements 'recommended' that they sell their kidneys abroad so as to repay their debts, while threatening their lives if they do not comply."

Madioni cited the case of a woman owing 200,000 shekels (approximately $58,000) on the black market. "She said that there had been a threat on her life, and had received a text message of a proposal that she sell a kidney to save her own life," he wrote to Licht. "She went on to say that if the authorities did not agree to her request, she would have no her choice but to turn to into prostitution."

In another instance, Madioni said, a debtor went to the Enforcement and Collection Authority offices accompanied by what appeared to be criminal elements, who asked on the debtor's behalf that the restrictions on him be lifted so he could travel to Turkey to donate a kidney. Madioni said the debtor had in his possession with medical certification acknowledging that he was willing to donate the organ.

Madioni said staff at the Authority had the impression that the debtor was being forced into making the request, and after a few days their suspicions were confirmed when he returned to tell them that he had a heart a defect preventing him from selling his kidney.

"These cases point to a frightening phenomenon, which are offenses under the law on organ transplants," Madioni wrote. "Beyond this, there appear to be far more serious offenses of extortion through threats, exploitation and physical harm for payment of debts."

Madioni told Licht that the issue required action by Israel's law enforcement agencies. He said he had raised the issue with Licht so that he could decide "whether to involve law enforcement officials or other agencies."