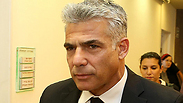 Finance Minister Yair Lapid
Photo: Amit Shabi
Finance Minister Yair Lapid said that future peace talks with a Palestinian unity government including Hamas could be possible, reported the Wall Street Journal on Friday.

Though Lapid did clarify that he is currently against any talks that include Hamas elements, his comments went against sentiments from most Israeli officials including Prime Minister Benjamin Netanyahu who expressed strict opposition to the possibility of any such talks since the end of a recent 9-month period of peace talks.

According the Wall Street Journal, Lapid said that Hamas, widely considered to be a terrorist organization, would first have to recognize the State of Israel and renounce violence, but included that such a change in policy is not unheard of.

Related Stories

"It's not like it didn't happen before," said Lapid. "The PLO used to be a terrorist organization."

Lapid, who is also Chairman of the Yesh Atid political party and sits on Israel's security cabinet, quoted former Prime Minister Yitzhak Rabin saying, "We negotiate for peace as if there is no terror, and fight terror as if there is no peace."

Hamas politician Hassan Yusef also spoke to the Wall Street Journal and while he claimed that Hamas is making moves to enter the mainstream, he made no assurances that Hamas would recognize Israel if pressured to do so.

"This will not happen by force from the US or Israel," said Yusef.

Hamas officials also told the Wall Street Journal that the main reason Hamas agreed to the unity agreement with the PA was the poor situation in Gaza due to Israeli and Egyptian blockades and military operations against militants.

"There were shortages of everything. We decided to work hand in hand with Fatah because our ship was sinking," said Ahmed Yusef, once advisor to Hamas Prime Minister Ismail Haniyeh.

Netanyahu's initial reaction to the announcement of a Palestinian unity government was one of vehement opposition saying, "Abu Mazen (PA leader Mahmoud Abbas) could have chosen peace with Israel instead of peace with a murderous terror organization. Tonight, while talks are ongoing to extend peace talks, he chose Hamas… He who chooses Hamas does not want peace."

Palestinian president Abbas said that unity between the Palestinian Authority and Hamas wouldn't be a roadblock to peace and said that the unity government would recognize Israel even when it included Hamas.

The US, who brokered the recently failed round of peace talks, also expressed regret in the formation of a unity government with Hamas and Israel imposed further economic sanctions of the PA as a result.