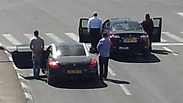 Israelis standing for the siren
Photo: Ofer Meyer
To my haredi brothers,
Last year, on Holocaust Remembrance Day, I was invited to Jaffa. When the siren sounded, I stepped out of my vehicle and stood with all those around me who had also left their cars. I felt the pain of Europe's vanquished Jews – including many of my own relatives.
For the first time in my life, I stood for the siren in a public place and cried.
During this private moment of internalizing the pain, I noticed a few members of one of Israel's minorities strolling down the street. I felt a scathing insult in their walk, as if the act was knowingly defiant.
Suddenly I felt what I had always understood on an intellectual level – when we Haredi refuse to share the national pain during the siren, with a minute's silence for those who died, we are essentially saying, "We don't care."
Siren & Silence
Knesset service takes theme 'Everyone Has a Name'; ceremonies also take place at Yad Vashem, Forest of the Martyrs and Kibbutz Yad Mordechai.
It is true that the siren makes no appearance in the Halacha and within our world of tradition, and it is true that we believe saying Tehilim or studying Mishna is more important than standing in silence for the siren.
But we were not only educated on the written Halacha, we were also raised on "And thou shalt do that which is right and good in the sight of the Lord" - in which recognizing the good and compassion to our fellow man are laws of life. Try to stand for 60 seconds to share in the pain of our people's tragedy on Holocaust Remembrance Day, and honor the memory of the fallen on Memorial Day – and you will feel that you are part of one nation sharing one fate.
Beyond national unity, we must respect the lives lost, the bereaved families who sacrificed their best sons and daughters for our safety. We owe thanks to the fallen and their family members for every step we take safe and secure in our State of Israel.
If they ask us to honor their loves ones with a minute of silence, do we have the right to refuse? If they see our lack of participation in this national tradition as disrespecting their loved ones, do we have on our conscience the pain we have brought them?
Brothers and sisters, I grew up in Orthodox institutions, my children are educated in them, and I am to my core part of the Haredi community that is very dear to my heart. I too was raised with the myth that it is meaningless to stand to attention during the siren.
Tzipora Gutman is the director of the Adi Center in Bnei Brak and an activist in the haredi community.