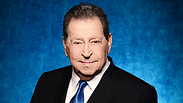 Presidential candidate Binyamin Ben-Eliezer
Photo: Roman Ackerman
Knesset member and Presidential candidate Binyamin Ben-Eliezer confirmed reports on Saturday that he will be undergoing a Kidney transplant after Israel's Independence Day on Tuesday.

"It's an easy operation," said Ben-Eliezer. He said that one of the kidney donors would be a stranger, but that the other donor, "I actually see all the time because he's one of my children."

Labor party member Ben-Eliezer has already begun dialysis treatment three times per week. At a cultural event in Kiryat Bialik on Saturday, Ben-Eliezer said that the operation is "routine".

Related Stories

"My associates don't need to worry because I promise that a week after the operation I'll be back at work full-time," said Ben-Eliezer.

The Presidential candidate added that he's suffered through worse injuries and recovered from them in the past like several years ago when he was admitted to the hospital with life-threatening pneumonia.

According to Ben-Eliezer, "Some were already mourning my death but in the end I came back to life at full power."

At Saturday's cultural event Ben-Eliezer also addressed a report by Channel 2 that he travels to gamble in casinos abroad. One of the women in the crowd said that his corruption invalidates his bid for the Presidency.

"Whoever thinks that I'm corrupt should go, actually should run, to file a complaint with the police," said Ben Eliezer. "There are really weird people who circulate rumors out of jealousy and hate toward me."