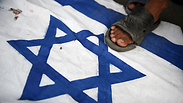 הפגנה ב פקיסטן נגד ישראל מבצע עמוד ענן דגל
Photo: AFP
The Pakistani intelligence agency known as ISI planned terror attacks on US and Israeli consulates in India reported the Press Trust of India on Sunday.

Indian official sources said that proof of the planned attacks was given during the interrogation of Sakir Hussain, a Sri Lankan national who was arrested on April 29 in Southeast Asia when investigators informed an Indian security agency of his possible connection to planned attacks in India.

Sources told the Press Trust of India that Hussain admitted to being paid by the ISI to spy and report on details of the structures and security forces of the Bangalore Israeli consulate and the US consulate in Chennai in southwest India.

Related Stories

Hussain was reportedly arrested a short while after arriving in Chennai and taken away for interrogation during which he surrendered the information about the attacks saying that the ISI had planned on sending two operatives from Maldives to India, presumably to carry out the attacks, and Hussain had taken care of providing fake travel documents and safe-houses.

Hussain claimed that his handler in the ISI had been Amir Zubair Siddiq, a counselor at the Pakistan high commission in Colombo, Sri Lanka, and a man already under suspicion as an ISI operative because of previous incidents.

Indian investigators also found surveillance photographs apparently linked to Hussain, picturing roads leading to the two consulates as well as the gates at their entrances. Indian sources said that the photographs had been sent to supposed ISI elements in Pakistan as well as the high commission in Colombo.

Further cyber investigations showed Indian Intelligence that the photos had been downloaded to a computer at the site of the high commission in Colombo.

The high commission's press attaché Muhammed Daud Ehtisham vehemently denied accusations that the commission or the ISI were involved in any such plans, calling the accusations a, "malicious media campaign."

Sri Lankan authorities have already launched their own investigation into the surrounding events, though Ehtisham claimed that no evidence would be found saying that Pakistan is a responsible state that would not have part in any such attacks.